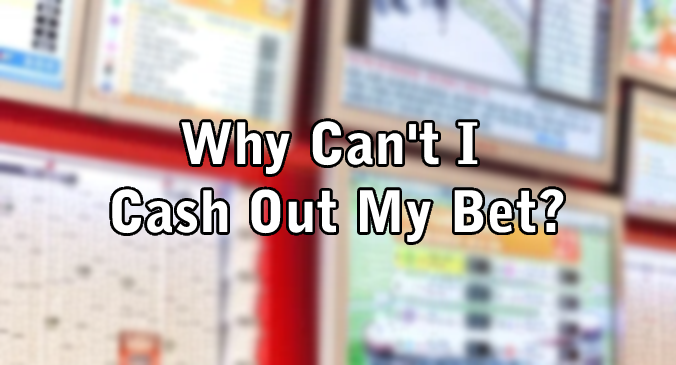 Sports betting websites and bookmakers have found a way to make your betting experience more engaging and dynamic. One of the ways they have done so is by creating an in-play or live betting option known as a Cash Out option.
But sometimes, when trying to use this feature, you may experience some issues and glitches, including being unable to Cash Out your bet. In this Wizard Slots post, we will explore why that might be and answer some other questions you may have concerning the Cash Out feature.
What Is Cash Out?
A Cash Out is an in-game or live betting feature often found in sports betting websites or bookmakers. It allows you to Cash Out your bet while the game is still in action. 
Essentially, the bookmaker or sports betting sites give you the option to receive a certain settlement before the game is over and the final results are released.
The Cash Out amount you may receive is calculated based on your bet and the current odds of your bet winning, and it is subject to change throughout the game. It could help minimise losses by offering an amount that's less than your original stake, or you could make a slight profit.
Cash Out Not Working
There are several reasons why the Cash Out functionality may not be working. First, remember that this feature is an add-on. It is not always available and can sometimes be suspended mid-game due to various reasons. Reasons the Cash Out feature may not be available include the following:
Cash Out bet conditions not met:

In some sports betting sites or bookies, the Cash Out feature may only be available under certain conditions, such as not being available on free bets. These conditions may differ from site to site, so it's best to check their terms and conditions before you commit. 
Market suspension:

If the match or event you bet on has been suspended, you cannot use the Cash Out functionality. Suspensions can happen because of a number of reasons. Perhaps the event has been postponed. 
Technical issues:

The Cash Out functionality is only available online, and sometimes,

online casino

sites can experience technical issues. Perhaps you need to clear your cache and cookies, or the site you are playing is having technical issues. If it is the latter, you can wait a bit until the issue is solved and try again. If the problem persists, you can try to contact their customer service.
The game is not eligible for Cash Out:

Not

all games

are eligible for the Cash Out option. So, if you are playing a game that does not qualify for Cash Out, the Cash Out option will not be available.

The game has not started yet

: The Cash Out feature is only available once the game or event begins. If the game has not started yet or is not currently active, you will not be able to use the Cash Out feature.
If none of those mentioned above applies to you, try contacting the site's customer service or support for further assistance.  
Why Do Some Bets Not Have Cash Out?
Unfortunately, the Cash Out feature is not available for every bet or game you bet on. In most cases, the Cash Out feature is only available for live games. 
That means the game you are betting on has to be playing live at the time of your bet. If not, that game may not be eligible for the Cash Out option.
Another reason your bet may not be eligible for the Cash Out option may be because you are using a bonus or free bet. Most of these bets do not qualify for the Cash Out feature.
Cash Out Suspended Or Unavailable - What Does It Mean?
In some cases, the Cash Out feature may not be available on account of being suspended. When you click on the button, you may still be able to view your potential Cash Out total, but the button to complete the transaction may be greyed out and written "Cash Out
Suspended."
The feature may be suspended due to some ongoing development. One common reason is the event being too close to the finish, where the result is unlikely to change, and punters would all be rushing to cash out if they were about to lose their bet. 
Should You Cash Out Bets?
The decision to Cash Out your bet is a personal one, depending on your needs or what you want out of the game. Keep in mind that if you Cash Out, you are essentially saying you want out of the bet. Therefore, your bet will no longer be active. 
However, the Cash Out option allows you to keep a portion of your bet. With that said, if you prefer seeing the game to its completion and would like to earn all and do not mind the possibility of losing all, you may not wish to cash out your bets.
So while the Cash Out option may give you an opportunity to save a part of your bet and minimise your losses, it can also mean you lose significantly should your bet turn out to be a winning bet because the Cash Out value is always lower than the amount you would receive if your bet won.
What Happens If You Cash Out A Bet And It Wins?
If you have cashed out a bet and it wins, that win no longer applies to you. Using the Cash Out feature means you no longer participate in the bet. 
So, whatever happens to the bet after you have cashed it out is no longer relevant to you.
The only money you will receive is the Cash Out value you took, and it is final. You cannot reverse it and claim back the winning bet.