7 Chakra's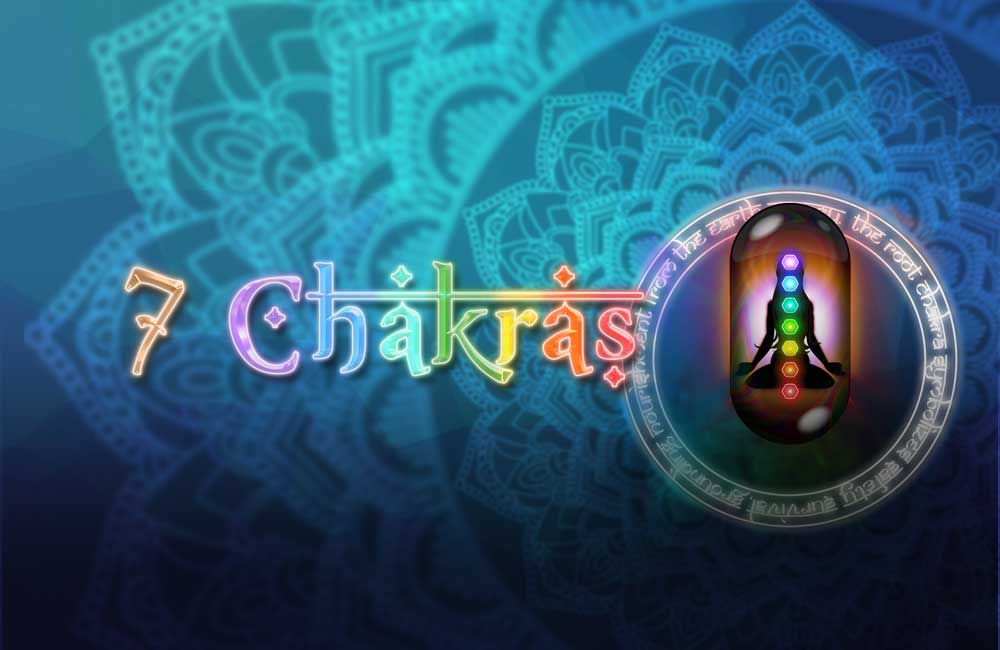 Find your zen with one of the most relaxing online slot machines known to man in 7 Chakras from developer Saucify! This peaceful online slot machine plays a lot like a classic fruit slot, but that isn't to say that there aren't a couple of bonuses here that can be utilised as you spin — we'll be covering those a lot more in the rest of the review down below to those interested! 
7 Chakras is a 5 reel uk casino slot, one that plays out across 49 paylines total! You won't find it difficult to string together wins here, trust us, we've played this slot a lot when doing our research for this review and can promise you that you're in for something special! Read the rest of the review down below to learn more about what the 7 Chakras slot games can do for you! 
Quick Links: Mad Mad Monkey | Starburst  | Fluffy Favourites | Slingo | Cops and Robbers | Immortal Romance | Thunderstruck
About the Developer of the 7 Chakras Slot Game: Saucify

With a name like Saucify, one might think that they aren't 100% serious in their goal of creating quality games. Try not to let that fool you, these guys are somewhat new to the online gaming industry as a whole, but that doesn't mean that there isn't quality coming out of their catalogue. Saucify caters to all sorts of players through the use of traditional three-reel slots and various 3D titles. 

Consider Saucify students of the game, a developer who are fans themselves of this beautiful industry. If you wish to keep the good times rolling after playing 7 Chakras for yourself, then why not feast your eyes on their catalogue — there are many slots/games here for you to pick and choose from. Here's a pick of some of our favourites just in case: 
Age of Spartans 

Big Game 

Captain Shockwave 

And many, many more!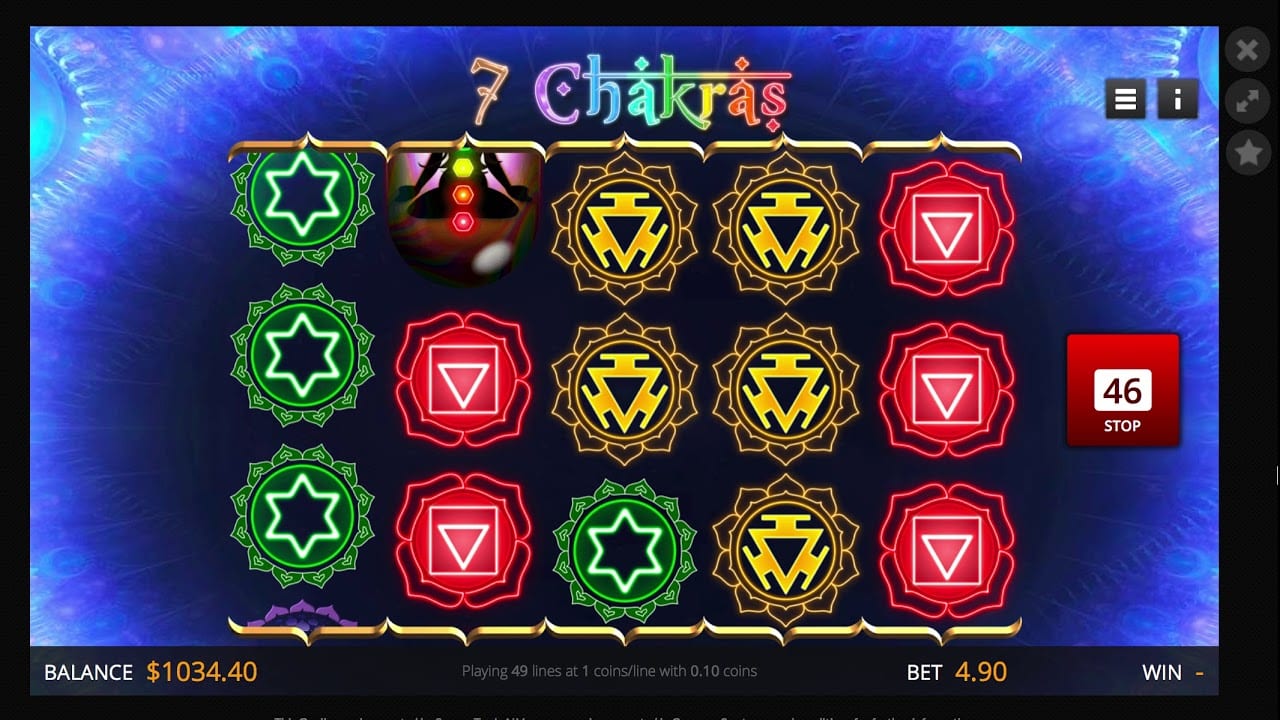 About the 7 Chakras Casino Game/Bonus Features 

Spiritual slots such as 7 Chakras don't come round all that often, in fact, we'd even go as far to say that this might be the first slot we've come across that exists within this spectrum. Saucify has always had a knack for crafting slots that go against the grain, 7 Chakras is but one of those games, ask anyone who has played this slot for themselves, and they'll tell you the same thing! Don't worry, you don't have to go, full hippy, playing this slot on a yoga mat to enjoy it, 7 Chakras is for everyone! 
Based on the concept of the 7 chakras from the Hindu/Buddhist religions, this slot machine is everything you should expect coming from a Saucify sort of slot machine. One should consider 7 Chakras a change of pace somewhat, especially when you compare this game to some of the others they've put out in recent years. The look and feel of this slot are incredibly trippy and can feel like an acid trip at times, but if anything this adds to the character of the game rather than a distraction. Learn how to win online slots.

To play this slot, you must first set down a bet of some kind. Bet amounts in 7 Chakras are incredibly forgiving, allowing you to play from as little as a penny to around £60. This bet amount will offer countless hours of replayability depending on how you like to play — newbies will appreciate the ability to play for fun when betting using pennies, and veterans will have the opportunity to make big money through the max bet amount. 

Each of the paying symbols found in 7 Chakras takes on a different chakra. Each is represented through a specific colour and shape, thus making them a lot easier to find when compared to some of the other icons across the board. Know that each of these chakras will offer punters something different depending on the number of icons involved in the winning line — you only need three symbols in the same line to create a win here. 
The highest paying symbol on the board can award punters 250x their initial bet when matching five in a row! Those playing on the higher bet amounts will find this icon incredibly helpful in their efforts to make the most money possible relatively quickly. Some of the symbols here do have a few hidden tricks hidden for you to discover. Wild symbols are available here in 7 Chakras and are quite common to find. 
Wild icons will substitute all symbols except for scatters when involved in winning lines. In 7 Chakras the wilds always appear to be doubled and can be found across every reel in the game. Matching the scatter icons that the wilds leave behind will unlock free spins in return! The number of free spins one earns depends entirely on the amount of scatters the player has matched outright — the more, the better, but we didn't need to tell you that, did we? 
Activating the free spins bonus will cause eight lotus flowers to appear and radiate across the screen. The objective of this slot game is to puck one leaf for each of your chakras. Each leaf you select has a number printed on the other side of it, these represent multipliers that will, once again, increase your score depending on the bet amount placed at the very start of the game. Here you can also net additional free spins, it just depends on how lucky you are…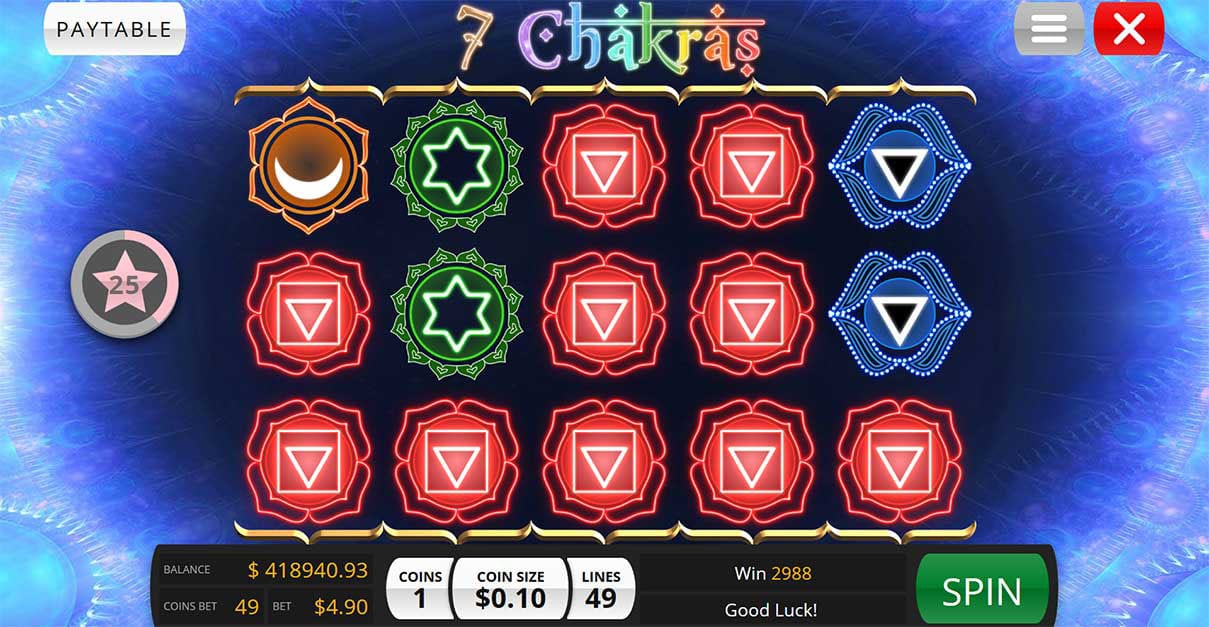 The Verdict on the 7 Chakras
7 Chakras is one of Saucifiy's best casino slots, and we aren't just saying that for kicks. This psychedelic slot machine is full of twists and turns, brought about through extensive features that only get better the more you play.
This slot feels like a fruity at times, which should appeal to a wide range of punters out there looking for something simple yet effective in making them some serious cash! If you've yet to check out 7 Chakras then what are you waiting for?