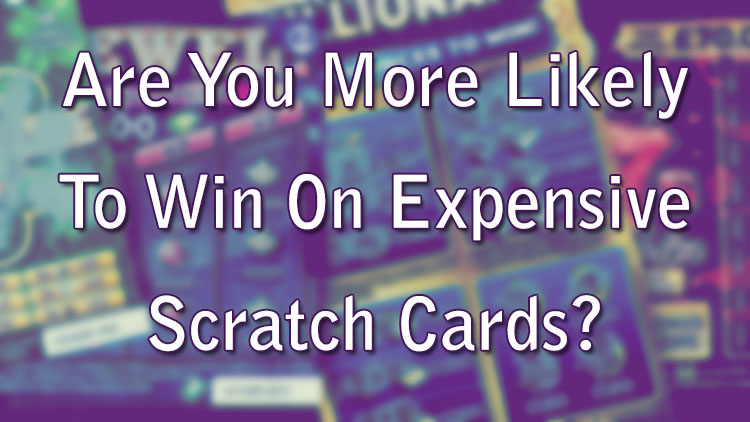 People love scratch cards because they're straightforward, and you find out whether you have won instantly. They're also based on chance, so enthusiasts feel they don't require learning any strategies. 
Not to mention that they offer the chance to win impressive prizes despite being relatively low-priced. However, there's a rumour that playing the more expensive scratch cards provides better odds of winning than playing cheaper ones.
We shall discuss this rumour in detail in this Wizard Slots blog post.
Are More Expensive Scratch Cards Better?
More expensive scratch cards may sometimes offer more ways to win. Additionally, more expensive scratch cards tend to offer larger prizes. Conversely, cheaper scratch cards usually have a lower prize pool.
However, this does not mean that more expensive scratch cards will provide a greater return than a lower-priced one.
Scratch cards are a game of chance, and there are no guarantees. Buying a more expensive one doesn't mean you have more of a chance of winning than playing a lower-priced one. The price difference could be related to the top prize available or a number of other factors.
Therefore, using your budget as a guide before buying a scratch card rather than making assumptions about the chances of winning may be a good idea.  
Are You More Likely To Win With A More Expensive Scratch Card?
Remember, buying a more expensive scratch card doesn't make you more likely to win. Scratch cards are games of chance, and the price is not an indicator of potential returns.
Some players believe that not as many people play the more expensive scratch cards, so the chances of winning are higher. However, that is untrue. More expensive scratch cards do not mean there are more chances of winning.
More expensive scratch cards often offer higher top prizes, and they may have fewer people playing them, but this does not mean they are easier to win than cheaper scratch cards.
What Is The Most Expensive Scratch Card?
All things considered, some people still prefer to play more expensive scratch cards over cheaper ones. So, here are some of the most expensive scratch cards:
Gold Fever

: Offers a 1 in 2,551,840 chance of

winning the jackpot

.

£500 loaded

: The odds of

winning money

back are 1 in 3.09. However, the prizes are smaller.

£100,000 A Month For A Year

: Estimates the winning odds at 1 in 5,560,350 for the top prize.

£2 Million Blue

: The odds of winning the top prize are 1 in 5,738,205.
Which Scratch Card Is Most Likely To Win?
One of the best things about modern casino gaming is the rise of online casinos like Wizard Slots. We offer a range of scratch card games online, but we understand finding those most likely to win can be difficult. However, a useful tip would be to look for scratch card games with a high RTP.
Return to Player percentage, or RTP, is the theoretical measure of how much a game is likely to pay back over a long time. For example, Book of Merlin has a 95.8% RTP. So, in theory, Merlin's Millions averages out as paying £95.80 back out to players for every £100 wagered in the long run.
The expected returns could be higher in a game with a higher RTP. So, that's why punters prefer to play scratch card games with a higher RTP. However, note that the RTP doesn't guarantee returns. Instead, it acts as a guide as to which gambling games might offer better returns.
They are random games of chance, so you may win more than the RTP indicates, or you may win less.
*All values (Bet Levels, Maximum Wins etc.) mentioned in relation to these games are subject to change at any time.