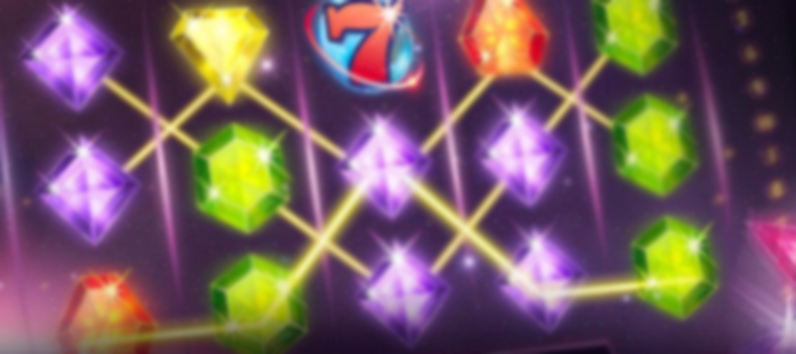 As you get more experienced in playing slot machines, you'll soon realise there are different slot formats. Understanding each can help you get the most from your gaming experience.
Nowadays, multi-line slot machines have become an industry standard. Popular among veterans and beginners, almost every slot player has come across a multi-line slot they enjoy.
Let's look at how to play multi-line slot machines in this Wizard Slots blog post below.
What Are Multi-Line Slot Machines?
Multi-line slots are slot machines with multiple paylines. They usually have anywhere from 20 to 50 paylines. However, some can offer 1,000+ ways to win, depending on the online slot you play.
One potential advantage of multi-line slots is that they give players more opportunities to try and land winning combinations. This is simply because they offer more paylines or ways to win. They can also come with entertaining bonus features and fun themes.
In comparison, most traditional slots offer players 3-reels, a single horizontal payline and fruit symbols. Their simplicity still attracts many slot players, and classic slot games remain a popular choice at both online and land-based casinos.
Fixed VS Adjustable Paylines
Hundreds of multi-line slots offer different payline patterns, formats, and themes. Let's explore the difference between fixed vs adjustable paylines below.
Adjustable Paylines
When you play an adjustable payline slot, it lets you activate how many paylines you want to play with. Popular multi-line slots such as Fluffy Favourites are a good example of this. It offers players up to 25 adjustable paylines.
This essentially means that players may choose to play with only 1 active payline or up to 25. Of course, the number of paylines you make active also has an effect on the total bet amount. For instance, you may choose to bet £0.01 per payline, meaning if you decide to only activate a single line, your total bet would be £0.01 a spin. Whereas if you activate all 25 paylines, the total bet would be £0.25 a spin.
Adjustable payline slots can offer more flexibility in this way, especially if you have a small budget.
Some players might prefer adjustable paylines because they get to determine how they want to bet. The paylines they select become active paylines. The freedom of choice might make these slots more appealing.
Fixed paylines
Fixed payline slots require players to bet on all paylines. As a result, you do not get to decide how many win lines you want to bet or play with. They remain fixed throughout.
Big Bass Bonanza is an example of one of the best fixed payline slots. This game comes with 10 fixed paylines, and players may choose their preferred total bet amount, which can range from £0.10 up to £5 a spin at Wizard Slots. 
Fixed payline slots usually have a higher minimum bet amount compared to adjustable payline slots. This is because the number of active paylines remains fixed, and you cannot adjust them.
How To Play Multi-Line Slots
The gameplay and rules in multi-line slots usually vary, depending on the type of slot you play. However, most players tend to follow the steps below to play multi-line slots online;
Log in to your Wizard Slots account and look for the best multi-line slots in the UK. Some popular choices tend to be

Gonzo's Quest

,

Jungle Jim - El Dorado

,

Vikings Go Berzerk

and

Esqueleto Explosivo 2.

Select your preferred slot game and wait for the game to load on the screen.

Read the

paytable

to find out the different potential symbol payouts available. Here you'll also learn how many paylines are available and whether they're fixed or adjustable. You can also view the payline patterns and read how winning combinations can be formed.

Set your preferred stake using the Bet + and - buttons.

Click the Spin icon to start the game.
Winning combinations can be possible depending on how many matching symbols are required to land simultaneously. For example, in Big Bass Splash, 3+ matching symbols need to land from left to right across a valid payline to create a winning combination.
The number of paylines could shift on each spin depending on which game you play. For example, the rows might increase or decrease, so the paylines or number of ways to win could change. This can usually occur in Megaways slot games.
You can also use the game rules and paytable to see if the game has any special symbols or bonus features available to trigger.
Is It Better To Have More Or Less Lines On A Slot Machine?
Now that you know what multi-line slots are, your next question might be, "is it better to have more or less lines on a slot machine?"
Of course, this depends on your personal preference. Slot machines run using a Random Number Generator (RNG), which ensures unpredictable results.
Playing more or less lines doesn't necessarily change your winning odds. Each outcome on a spin is random, regardless of how many paylines you play.
Therefore, the decision to play more or fewer paylines should be based on the kind of slots you enjoy playing.
Should You Play All Lines On A Slot Machine?
Some games might require you to choose how many paylines you want, i.e., adjustable paylines. Alternatively, others may require you to play all lines, i.e., fixed paylines. Some players might assume that more win lines = more wins. However, that is untrue.
Remember, the RNG ensures that every outcome from each spin is unpredictable. 
Playing with more paylines can sometimes cost more in an adjustable payline game. Conversely, a game with fewer win lines might mean fewer possible outcomes or combinations. For example, a single payline slot usually means fewer symbols per reel, which means there are not as many ways to form potentially winning combinations.
Conclusion
Multi-line slots can offer a higher number of potential winning ways, and depending on the game, the paylines may be fixed or adjustable. How you play multi-line slots ultimately comes down to personal preference, so play games that you find fun! 
Here at Wizard Slots, we have over 1,500+ casino games and slots, so if you're searching for multi-line slots to play, take a look at our vast collection!
All values (Bet Levels, Maximum Wins, etc.) mentioned in relation to these slot games are subject to change at any time.