The world of online slot games is a wonderfully exciting one and one that is always evolving it seems.
The online slot game has never been so popular as it is now and, at the same, there has never before been such a remarkable amount of choice when it comes to picking a slot game to spin. The online gambling industry is absolutely thriving right now thanks to the popularity of many names and titles, but the online slot game is amongst the most played and widely enjoyed online gambling formats that there is out there today. Why is this? Well, there are many reasons. One reason for the popularity of online slot games has to be down to their ability to thrive in the growing smartphone gaming market. Slot games are easily translated and optimised fully for a smartphone, meaning that avid gamers can enjoy these titles from the ease of their handheld device. In. A society where mobiles are so important and so often on our person, it is mono surprise to see that the mobile functional online slot game is regularly getting new players who want to play via mobile apps and mobile-friendly browsers. Another reason though is simply because of how much the standard of gameplay has improved in recent years in terms of the online video slot machine. Once a simple subgenre of a game, the online slot game is now a very different beast to the humble fruit machine. Games now come with 3D graphics as standard and audiovisual gaming experience is to be expected when spinning the reels of a modern online slot.
The growth of relevant technology, not only smartphones but the software available to developers, has led to online video slot games looking better than ever before and able to offer more features, narratives and genuinely engaging gameplay. Some people expect the slot game to be one dimensional and to an extent, at one point in time this assumption would have been accurate. But now, slot games are colourful, all action games that use unique graphics, characters and above all, interesting themes to make these games about way more than just some spinning reels. In celebration of the slot game themes that you will find out there, and to educate a few people as to why slot game themes are so important, we have a guide to slot game themes here. We will work through some of the most regularly used themes for online slot games and point out some good examples of themed slot games. We will also showcase a few of the more original themed slot games out there today, of which there are many. From underwater adventures to outer space slots, the theme of a slot game can vary in the most wonderful way, making for a brilliantly diverse selection of online slots and video slots to play.
Why so many slot game themes?
From underwater adventures to outer space slots, the theme of a slot game can vary in the most wonderful way, making for a brilliantly diverse selection of online slots and video slots to play. But why is this? Why are there so many different slot games and slot game themes to play? Well, there is no one answer to the question, but you only have to look at the competitive nature of the industry to understand why. Developers are the people and brands behind every slot game and they are always trying to out-do each other when it comes to providing the best slot games. As for the online casinos, they will all want to offer the most popular slot games and therefore, the standard of slot has constantly gone up and up as more people get involved with playing them. The online slot game, although still improving so rapidly, is far from a new invention. They first appeared online during the 1990s and so, perhaps this explains another reason for the amazing choice of themes that you have at your disposal as a slot game player. As time goes on, more and more games have been made and this has naturally led to developers having to think outside the box.
Popular slot game themes
Despite the talented developers who are very much the unsung heroes of the slot game industry being able to think outside the box, there will always be room for some more games that adhere to certain, popular themes. So classic are some of the below slot game themes that games of their kind existed way before the slot game moved into an online entity. While it may be hard to stand out as a game with one of the following common themes, you are sure to be able to find great games that use them, often taking an original spin of a tried and tested theme. We start with a true classic.
Luck o' the Irish
The Irish themed online slot may just be the most produced slot game of the lot. One particularly legendary series of slot games might come to mind even when just thinking of the Irish theme, as Rainbow Riches is one of the longest-running and most played online slot game series of all time. A classic looking slot now thanks to its age, the original Rainbow Riches slot game is an icon of the online slot game scene, actually first played as an offline slot in pubs, clubs, chip shops and the like. Spawning many later games with the same theme, you will never go wrong with a Rainbow Riches slot.  But what can you expect from an Irish themed slot game, Rainbow Riches or otherwise? Well, expect rainbows, leprechauns, pots of gold and more often than not, a great sense of humour thanks to all the cheeky characters that these games often manage to incorporate. While the main motivation might be the pot of gold, metaphorical or not, Irish themed slot games are well-loved for this good sense of humour and the aforementioned and highly praised Rainbow Riches certainly confirms this reputation.
Ancient Egypt
A trip back in time to mystical Ancient Egypt is always a popular pastime for a slot game developer and slot game player. There are many famous examples of slot games that use this theme and the nice thing about the Ancient Egypt theme is that there seems to be a lot to work with. Some titles will take a cartoon-like approach, bringing history to life in an entertaining and more comical way with moody pharaohs and spooky mummies. However, some games, like Book of Ra, tend to get more historical and even factual with their input. This is a simple slot game in terms of layout and gameplay, with just the 5 reels on offer and limited animations. Yet, the use of real Egyptian hieroglyphics shows a real knowledge of the era that runs deeper than just mummies and pyramids. That said, these are the kinds of iconography you can typically expect from an Ancient Egypt themed slot game. Whereas the Irish themed slots promise the chance to win a pot of gold, you can expect ancient treasures and jewels that mummified kings and queens wanted to take to the afterlife to be your jackpot here. Another example of a popular Ancient Egypt slot game would be the brilliant Cleopatra, in which the fascinating Pharaoh takes you through a journey back in time when she ruled the Egyptian kingdom. A game with great graphics, the stunning Cleopatra acts as the main character here.
Movie theme
Another really popular theme, which also includes some of the best slots today, is inspired by Hollywood. You will find a lovely selection of slot games with movie themes, whether than be inspired by movies in general or, more so, by specific films. Movies as recent as Ted and as legendary as Forrest Gump have been turned into brilliant slot game titles and these tend to be so popular with slot game players. In the latter mentioned Forrest Gump, expect to see all the characters from the film, as well as Box of Chocolates and one of the most excellent bonus features you will find anywhere. The Run Forrest Run bonus sees Gump catch an American football and start to run, run, run. The further he gets, the more money that Tom Hanks' famous character will win you. This is a great example of how a themed slot game can involve great bonus features, relevant to the very theme or narrative of the game in question. Other films that have been turned into slot games include Batman: The Dark Knight, which brings a gritty look to the reels in a brilliant slot game depiction of a modern classic.  Also, on the topic of themed slot games with great bonuses, you can see how many rounds the cinematic boxing legend, Rocky can go for in his movie slots games. The more rounds he lasts, boxing against opponents that he met in the iconic series of films, the more money you will win while playing.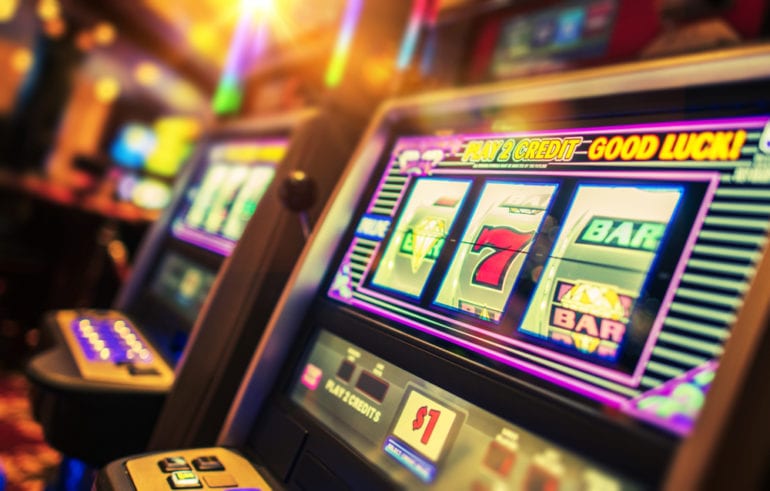 Retro theme
One final popular theme is very simple. It sees the modern online slot game return to its origins, as with a retro theme you can expect to play a game that is both simple and nostalgic. Retro themed slot games often bring fruit back to the reels in really easy to play titles. While they may lack features, this is also the joy of slots with a retro theme. What more do you really need from a slot game other than some oranges, lemons, cherries and bells? Some of the most popular slot game adhere to this classic theme, proving that despite all of the modern examples of how advanced the slot game has become - some of which has been mentioned above - there is still very much room for the age-old format. So if you just want to line up some fruit on the reels for that nostalgic feel of slot games from yonder years, you very much can do so. Flaming Wins is a great example of a retro slot, where fruit is very much as the centre of the game. Look out for hot rod style graphics around the reels in a game that combines classic slots with the modern online format.
Benefits of playing themed slots
What are the benefits of playing a slot game with a theme? Well, we have answered this in all the above sentences in some ways but, in case you are still unsure, look no further than what a good theme does for the overall narrative of a game. A slot game theme removes the game from simply being on the reels and takes it into other realms. Themed slot games tend to have better graphics, engaging narratives and perhaps above all, theme relevant bonus features that offer more ways to win and sometimes, more money to win, too. Here are some quick examples of themed slot games that we like…
Top picks
Penguin City
This slot game was developed by Yggdrasil, which guarantees great graphics. It is hard to pinpoint the theme, but something along the lines of 'urban inner-city penguins' would do the trick. The game is set in an amazingly detailed China Town location, inhabited by penguins.
Vomiting Unicorns
Yeah, this is might just be the most surreal slot game theme there is. Poorly fantasy animals are throwing up all over the reels on this well humoured, somewhat surreal slot game. As ever, there are great bonuses available too in this game… and vomiting unicorns, too.
Fat Rabbit
Finally, we have Fat Rabbit. The theme of this game is part of farm animals and part weird. Basically, feed the obese rabbit to get big wins. He loves carrots, but will probably eat just about anything in this, another slot game with a great sense of humour. A free spins feature will help you win more and help the main character of this themed slot game fill his belly.