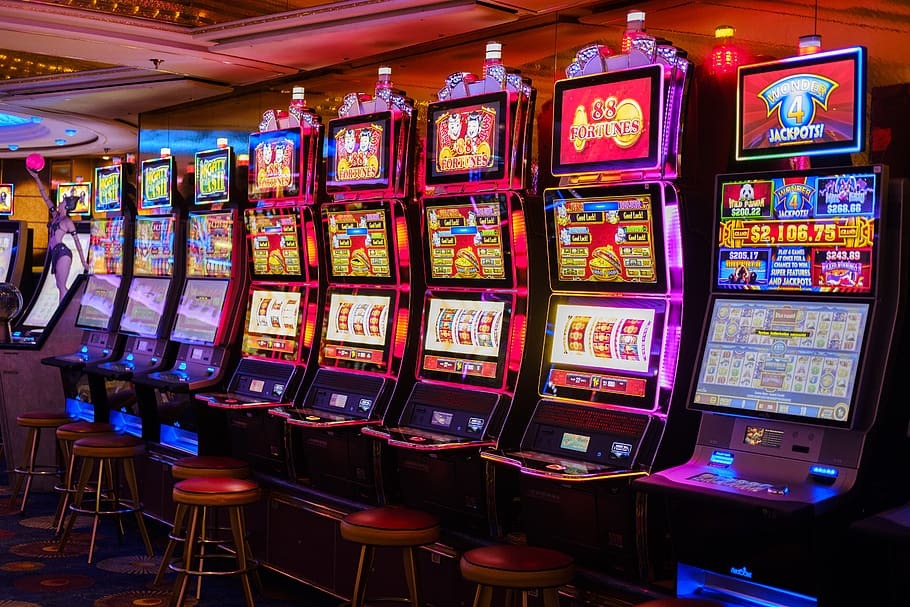 Have you ever wondered whether online casinos can change slot machine payouts?
In this blog post, we will be exploring whether or not casinos can change slot machines odds. We'll also examine whether casinos can adjust a slot's RTP (Return to Player) percentage and whether the RTP can be changed depending on the day or time of year.
Can Casinos Change Slot Machine Odds? 
Slot odds refer to a player's chance of potentially getting a winning combination when they spin the reels of a slot. The odds can differ depending on the type of online slot you play.
But can casinos alter the odds on slots? Technically, casinos can change slot machine odds. However, this is completely illegal. Casino operators could change the odds of a slot so that it works in their favour and they make more profit from players.
While it is possible, it is not legal. All reputable land-based and online casinos in the UK are licensed by the UK Gambling Commission. Slot machines are regulated regularly to ensure mobile casinos don't rig their slots. The regulators check slots to see if their RTP percentages are correct, and the Random Number Generator (RNG) operates fairly.
These policies are put in place to ensure gambling is fair for all players. There is no reason why a licensed casino would want to change slot machine odds. If they were to change the odds of slots, they would potentially have their license revoked and could receive a hefty fine. 
The chance of coming across a rigged slot is very low. Before you register with a new online casino and play slots, make sure to check that the casino has a license and is registered by the UK Gambling Commission. You will find the license logo on their website.
Do Online Casinos Adjust the RTP? 
Return To Player (RTP) is a theoretical slot term that refers to how much money a player could potentially win back after many spins on a slot machine or a long period of time.
According to the RTP, if you were to spend £100 on a slot machine with a RTP of 98%, you would theoretically win £98 back over time.
The RTP of a slot is decided by the game provider. Top slot developers such as Microgaming, NetEnt, Pragmatic Play, and Eyecon all choose the RTP of their slot machines. The RTP is not decided by the casino.
The game provider will choose the RTP rate of a slot based on a number of factors. One of the main factors in deciding what the RTP rate should be is how much the slot cost to make. A slot machine based on a popular movie, TV show or franchise such as Monopoly will most likely cost a lot more to make. This means that the RTP is likely to be lower.
Slot studios set a range, for example, 95% - 96% RTP. Casinos must adhere to the RTP range set by the slot developer. Using the example above, one online casino may state a slot machine has a RTP of 95.2%, whereas another online UK casino may state that the same slot has an RTP of 95.5%. As long as casinos keep within the set range, it is completely legal.
Do Casinos Change Payouts Depending on Day, Time or Holidays? 
One of the biggest slot myths is that a casino can change payouts depending on the day or time. This is, of course, not true.
Online slots have the same payout percentage regardless of the time of day or whether it's the Christmas or summer holidays. It doesn't even matter if the slot is busy or quiet. The RTP range set by the slot developer will remain the same.
If a casino changed the payouts of slots, this would go against rules set by the UK Gambling Commission. The casino could then get its license removed and potentially receive a huge fine. Obviously, casinos don't want this. Regular checks are made in reputable casinos to ensure the RTP is correct, the RNG functions correctly, and the casino makes gambling fair and safe for everyone.
The time of day, or day of the week has no difference on whether you will win a slot or not. While casinos do not pay out more during the holidays, they tend to have more offers. For example, a slot developer may offer free spins on a new Halloween game, or a casino may have a special Christmas bonus offer. This could be a good offer to take advantage of.
During holidays, casinos can be much busier. This does not mean that payouts increase. Players may have believed this because more people actually play slots over the holidays, so, of course, more money is typically paid out. However, the RTP never changes. 
The same applies to weekends. More people tend to play slot machines over the weekend. This does not mean that the RTP changes. It just means that more money is potentially being paid out due to more people playing slots.
You can test this theory out for yourself. Take a look at the popular Barcrest slot Rainbow Riches. Rainbow Riches has a theoretical RTP of 95%. Have a look at what the RTP of Rainbow Riches is in the morning. It will be 95%. Take a look at what the RTP will be in the evening. It will be 95%. Take a look at what the RTP is during the holidays, and again, it will remain to be 95%. The day, time of day, or time of year has no effect on the payout of slot machines.
Do Casinos Manipulate Slot Machines? 
Casinos do not manipulate slot machines. When you play a slot machine online, the outcome will always be random. Everyone who plays slots has a fair chance. 
Slots machines today are powered by a small computer device known as the Random Number Generator (RNG). The RNG is what determines the outcome of a spin. It determines the combination of slot symbols that appear on the reels when they stop spinning.
The RNG generates thousands, if not millions, of different number sequences every second. Therefore, it is impossible to predict if you will potentially land a winning combination or not. When you hit Spin, the RNG will generate thousands of number sequences until the reels stop. A winning or non-winning combination will then appear on the reels.
As the slots RNG is a complex algorithm, this makes it impossible for casinos to manipulate. The RNG is in place to make sure playing slots is fair and fun. Casinos can't rig slot machines. Players can't cheat or trick the RNG, either. So when you play in a reputable online casino, you can feel confident knowing you can have a fair gaming experience.
*All values (Bet Levels, Maximum Wins etc.) mentioned in relation to this slot game are subject to change at any time.