History of Microgaming
This casino games developer pulls no punches when it comes to its fantastic history in the gaming world. The online casino industry goes way back to 1994 when it all started happening, and this is also the first time we start to see online games going on. In that year, a huge amount of gaming companies launched, but there is only one company from South Africa that say they hold the title for being the first to offer online slots games for real cash, and that company is Microgaming.
Whether it is true that this games developer was the first to offer casino games for cash remains debatable, but one for thing is for sure, the company has been in the business now for more than two decades since 1994, and has seen it all, as well as having been at the leading edge of the games industry for the majority of the time. But exactly how has the casino games developer Microgaming managed to become the powerhouse that we know it to be today? Also, don't forget that you can play their games on Wizard Slots with some of the best promotions in the market.
How it All Started
Microgaming was launched in 1994, but by whom it was launched by remains a mystery, and it has always been hard to pin down any actual evidence and information about the ownership of the company. But, one name does pop up when it comes to the links of the original founders of the company, and that is Martin Moshal. As that name will always be mentioned when anyone is talking about the story of Microgaming, it is fairly safe to say that this person was indeed involved in some way.
The company has been private though, for the entire time it has operated, and so there really is pretty much nothing to go on when it comes to the details around who it is that is behind the launch of this gaming software giant. What we do know for sure though, is that in a time where most of us did not even have WiFi and AOL disks via snail mail were a thing, the company launched its first game. This was 1994. Microgaming knew it was onto something and carried on releasing game after game.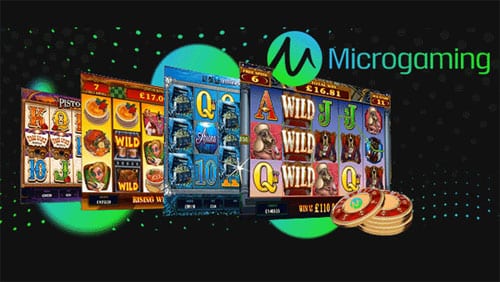 But, the industry soon became the crowded one that we all know today, and the company was not the only one to get into the casino development arena, despite being one of the first to release new slot games options considering that the company really was the first to launch real money casino games online. Another first for Microgaming if the former was the case, the company launched a slot game called Cash Splash - this was no big deal, however, it was what was incorporated into the game mechanics that would change the gaming industry that made it a first.
This game, Cash Splash, was the first game with a progressive jackpot, which means a part of the money deposited for every spin would get pooled into a jackpot, and this jackpot would be triggered when a specific winning combo showed up on the reels. This innovative game thrilled the gaming industry, and the rest of the games developers followed suit, and this innovation from the company helped it to secure some of the biggest games clients out there.
Being an Ethical Online Casino and Slot Developer
As the company was one of the original software developers in a brand new market, it quickly saw that some kind of regulatory and controlling body would need to come in and start policing the industry to keep it as legitimate as possible. This concept might seem a bit odd now, but it is a bit like how bitcoin was. At this time in the stages of online gaming, it was just the start of business accepting online payments so things were not how they are today when it comes to paying online.
The gaming industry itself too, already had a bit of a shady rap in general, and so it was only wise to take some necessary steps so that customers would feel safe to game. With these ideas in mind, the company teamed up with a number of other firms in the gaming industry and the Interactive Gaming Council materialised. This was an organisation set to help put regulations into place around the online gaming hemisphere and ensure fair game play.
Further innovation from Microgaming – New Slot and Casino Games
The release of their first progressive jackpot slot machine went well, and since, the company pushed forward in the world of online gaming. Microgaming has now developed more than 1200 casino titles over the course of the years and within this portfolio includes various games which feature pooled jackpots. These kinds of games mean that a number of licensees can pool their jackpots together in one sizeable portion, increasing the amount hugely.

Having said that, the Mega Moolah slot machine has in fact seen jackpots that have been won of more than five million dollars on several occasions, and this game continues to be the most played online slot machine out there today. In 2005, the company takes things even further with the release of the first co-branded slot game - Tomb Raider. It contained graphics from the well-known comic book story and the film itself, plus launched a trend that see nearly every major entertainment company co-branding for casino games.
Come 2008, the company has reached a huge number of milestones, beginning with being the first company to launch an online slot with one hundred pay lines, soon after this the company set another world record when a progressive jackpot of theirs burst at more than 10 million dollars.
Last but not least, the company released a new feature that was unseen in the slot gaming world and allows players to upload their own graphics to a software and so games could be personalised. It is safe to say that the future holds great things for this company, and we can not wait to see what exciting innovations Microgaming comes up with next. Some of their best slot games to try can be found on the link above. Don't miss out.