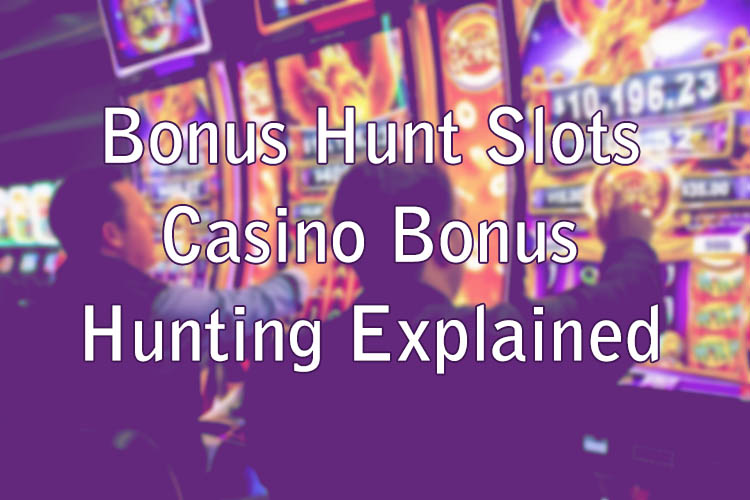 The online casino world has been gaining popularity over the past decade, and various new concepts and strategies have come to the forefront. One such strategy that has become quite popular among slot players is called the 'bonus hunt'.
Bonus hunting is basically searching for online slots that offer bonus features. These slots are typically designed to offer players the chance to win big prizes by unlocking various bonus features.
Bonus slots have the potential to keep players entertained, and they have become a popular choice for many players looking for a fun and exciting gaming experience.
In this Wizard Slots blog post, we will discuss bonus hunts, if they're worth it and the difference between bonus hunts and casino bonus hunting. So, continue reading to find out!
What are Bonus Hunts in Online Slots? 
Bonus hunts are a type of playing strategy that involves hunting for possible bonuses in online slot games, usually in the form of free spins. This strategy involves searching for online slot games that offer generous bonuses and free spins and then playing them to try and unlock the bonus.
Bonus hunting may require a certain level of patience, as players can keep playing until they hit the bonuses. If they manage to activate a feature, they can then exit the game before the bonus begins. Then, players move to a new game and attempt to repeat the process. Eventually, they can return to the unplayed features and play them back to back. 
Bonus hunts have become relatively popular among streamers, as viewers can be invited to take part by joining the thread and leaving comments. 
How Do Slot Bonus Hunts Work?
To understand how bonus hunts work it's important to understand the concept of bonuses and potential free spins in online slots. Bonuses are essentially extra rounds, or free spins offered to players as a reward for making certain combinations of symbols on the reels. 
Free spins bonus features are essentially the same thing, but with the added benefit that players don't have to use any of their own money to play them. Players who may engage in bonus hunting typically start by searching for online slot games that offer potentially generous bonuses and or free spins. 
They then play these games until they hit the bonus rounds. This might involve playing the bonuses in a specific order, or playing the games for a set period of time.
Are Online Slots Bonus Hunts Worth It?
Online slot bonus hunts can be a lot of fun and provide players with an entertaining gaming experience. One of the benefits of playing bonus hunt slots is that they can potentially offer you the chance to win big prizes.
However, they also have the potential to be a quick way to lose money. That is why it is always important to remember that slots are a form of entertainment, and you should not view them as a way to earn money. Furthermore, the outcome of each spin is completely random and cannot be predicted, meaning that you should only play with money you can afford to lose. 
So, the answer to this question is largely subjective and will depend on your individual preferences. Furthermore, bonus hunting is not a guarantee of winning, as all online slots are based on chance and are inherently random. That means you could potentially spend a lot of time and effort bonus hunting without hitting any wins.
Bonus Hunt Slots vs Casino Bonus Hunting
Bonus hunt slots and casino bonus hunting are two popular forms of strategy applied in online UK gambling. However, they are distinct from each other in terms of their possible objective, risk level, and strategy involved. 
Bonus Hunt Slots: 
It is a type of online slot machine gambling where the objective is to

collect as many bonuses as possible

from the slot machines. 

The bonuses can come in various forms, such as potential

free spins

, cash prizes, and

multiplier bonuses

. 

The strategy involved is usually to choose the slot machines that offer the most potentially lucrative bonuses and to play until the

bonuses are triggered

. However, as slots are games of chance, this may never happen in some cases.
Casino Bonus Hunting: 
It is a practice where players try to exploit

casino promotions

. 

The objective is to attempt to take advantage of the bonuses offered by the

pay by mobile casinos

, such as

Welcome Bonuses

, to maximise the player's chances of making a possible profit. 

The strategy involved is carefully studying the promotions' terms and conditions and choosing the promotion(s) that offers the best possible value. 

Casino bonus hunting is considered a high-risk form of

online gambling

, as the bonuses can be subject to strict

wagering requirements

and other conditions that may reduce the player's chances of making a potential profit.

If caught abusing bonuses, you may have your account frozen or you could even

be banned

, depending on the casino.
Conclusion
In conclusion, bonus hunts can be an entertaining way to play slots. But they're not a guaranteed way to win, and they can quickly become expensive if you're not careful. They may also be frowned upon by a lot of online casinos. 
As with any type of gambling, it's important to remember to play responsibly and to never gamble more than you can afford to lose.