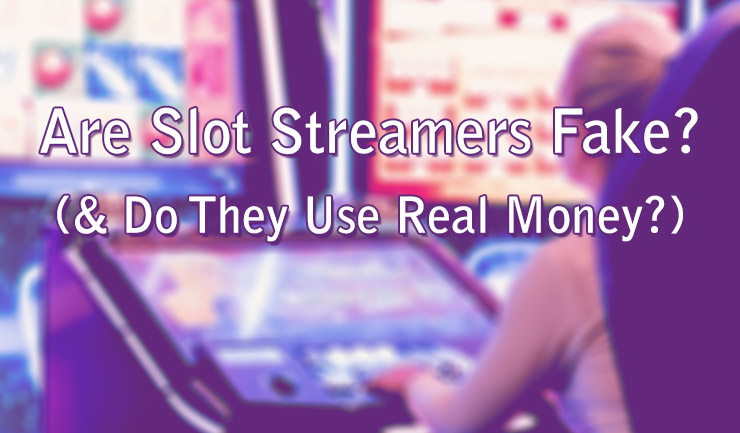 Gambling streaming has been a growing culture since the mid-2010s. Members of the profession shoot live videos and upload them to platforms like Twitch or YouTube.
However, a few disingenuous streamers have occupied the scene over the years. So, this has made it difficult for viewers and gambling enthusiasts to pick out legitimate streamers. We'll advise you on how to identify fake streamers and whether they use real money.
Are Slot Streamers Fake?
Although some slot streamers are fake, a few are legitimate. Fake streamers tend to be opportunists looking to dupe their audiences. One of their techniques is using phoney money on real slots. They also use demo play to fool viewers into thinking they're playing the slots online in real-time.
Fake streamers can also use rigged software to manipulate games from authentic software providers. So, their fake software makes it seem like they're gambling for real money. As a result, these theatrical big-win scenarios hype their audiences into thinking they're playing for real.
Do Streamers Use Real Money on Slots?
Legitimate streamers use real money to play slots. Some share the value of their deposits with viewers to forge trust. You can see how much they're betting, losing, or winning as they play.  
How To Spot Fake Slot Streamers
It's not always easy spotting fake slot streamers. However, we have a few tips that could help to identify one.
The streamer plays at low-quality online casinos instead of at reputable pay by mobile casinos like Wizard Slots.
Fake streamers make fake deposits and withdrawals forged to look like real transactions. As a result, the players might appear to make withdrawals in the hundreds of thousands via low-quality casinos.
Illegitimate streamers pay fake bots to increase their views.
Streamers push viewers to play on certain sites that don't usually have any credentials.
Why Do People Watch Slots Streams?
Watching slot streams has picked up in recent years. There are several reasons why people enjoy watching slot streams. For example:
To See How Slot Games Play Out
Players are curious to learn how real money slot games online work and what they may be about. Slot streams allow them to see this without betting their own money.
For A Sense of Community
Live slot streamers enable live chat so other viewers can chat about the game proceedings. It fosters a sense of camaraderie among regular viewers who tune in.
For Entertainment
Seeing each spin's random outcome is exhilarating, especially if the stakes are high.
How Do Streamers Make Money on Slots?
Most popular streamers can attract audiences in the thousands. This manages to net them deals with casinos. For example, they get a certain percentage via affiliate links. If players register via these affiliate links, streamers earn a certain commission from these casinos.
How Much Do Slot Streamers Make?
It isn't easy to know precisely how much slot streamers make unless they share their e-wallet. Then, you can view their deposits and withdrawals. 
How much they make depends on the size of their audience and the outcomes of their gambling sessions.
Some slot streamers use their money to play, so you can see how much they bet and lose or win as they play.
Is Streaming Slots Legal?
It depends on which jurisdiction you're in. For example, streaming slots is illegal in some US states, but it's legal in the UK.
Conclusion
It's difficult to spot fake streamers, especially because new ones are coming up every day. However, this may be a bit easier, thanks to the valuable tips we've provided above. An essential tip is to ensure you ask your favourite streamer to upload their e-wallet statements. It would also be helpful to check whether the games or casinos they're promoting are licensed or registered.