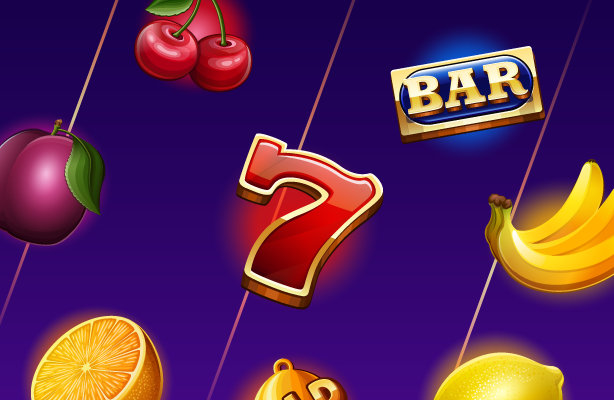 Want to learn more about slot machine reel symbols? Read on to find out more!
In this blog UK casino post, we will be telling you everything you need to know about slot symbols. Everything from how many symbols there are on a slot machine reel, what the different symbols mean, and what a megaways slot is.
How Many Symbols on a Megaways Slot Reel? 
Megaways slots are online slots that have a unique game mechanic. This innovative technology allows the reels to hold more symbols than usual. As the reels hold more symbols, this can give players more ways to win.
This new megaways technology means that players can now unlock over 100,000 paylines! In addition, Megaways slots not only open up many new ways to win but also have an exciting range of bonus features to play. 
Megaways slots are fairly straightforward. To win, you simply need to match symbols on adjacent reels, usually beginning from the leftmost reel. As megaways slots use a random reel modifier, this means that with every spin, the number of symbols can change. This is different to traditional online slots that have a fixed number of lines and symbols.
Megaways slots tend to have 6 reels. Each of the reels can hold anywhere between 2 and 7 different symbols. Megaways slots are very exciting to play, as they often feature top-quality animations, unique themes, and a variety of bonus features. Let's go through some of the bonus features you may find in a megaways slot!
A common feature in megaways online slots is cascading or tumbling reels. Cascading occurs after wins are formed by landing 3 or more matching symbols. The symbols that formed the win will then be removed, and the ones above will drop to fill the gaps as new symbols enter the reels from the top. New winning combinations may then form following the cascade, these symbols are then removed, and the process repeats. 
The cascading feature continues until no more wins are created. Therefore, it is possible to chain several cascading wins in a row on a single spin.
Another feature you may find in a megaways slot is mystery symbols. The mystery symbols can bring excitement and mystery to your gameplay. Mystery symbols can change and transform into other symbols to potentially help form winning combinations or trigger other bonus features.
Like with many modern online slots, many megaways slots also have a Free Spins feature. This is typically triggered by landing at least 3 scatter symbols on the reels simultaneously. If unlocked, you receive a number of extra spins.
Lots of megaways slots also have multipliers that could amplify winning potential. You may discover cascading win multipliers or progressive multipliers that continue to increase. There may also be wild multipliers that can become sticky, remaining in place for another spin or cascade.
Here are some of the best megaways slots to play here at Wizard Slots:
Does The Number of Symbols on a Slot Affect Volatility? 
Slots Volatility refers to a slot's theoretical behaviour regarding how often a slot pays out and big the payouts are. Slots with high volatility tend to pay out higher rewards, but rewards are less frequent. On the other hand, slots with low volatility tend to pay out lower rewards, but rewards are more frequent. Again, this is in theory; results may differ in practice.
Megaways slots usually have medium to high volatility. This means that there is potential for big wins. However, wins do not come around as often. This is because there are so many more symbols on the reels. There are so many more ways to win and different ways that symbol combinations can be made.
What Are The Symbols on a Slot Machine? 
There are so many different symbols on a slot machine. But what are they? Let's go through some of the most common symbols you can find in slots.
Wild Symbols 
Most online slots have a wild symbol. A wild symbol is a special symbol that can replace all other standard symbols on the reels. For example, say you land four rainbow symbols plus a wild symbol on a payline. Even though all the symbols do not match, you would still get a payout for 5 symbols since the wild is now acting as the rainbow. Wild symbols usually cannot substitute for other bonus symbols.
Multiplier Symbols
Multiplier symbols are another type of special symbol. If you land a multiplier, any wins that incorporate this will have the payout multiplied, resulting in a bigger payout than normal for that combination.
Scatter Symbols 
Scatter symbols can be very exciting in slots. They usually trigger a Free Spins feature or other bonus round. Typically, you will need to land at least 3 scatter symbols on the reels in the same spin to activate a bonus feature like a Free Spins feature, a Pick-Me round, or Bonus Trail. Normally, scatter symbols do not have to land on a payline to trigger the bonus feature.
Bonus Symbols 
Bonus symbols are the key to unlocking bonus features. The most common type of bonus symbol is the Free Spins symbol which triggers the Free Spins feature, but they can also be responsible for triggering other bonus rounds or slot jackpots.
Standard Reel Symbols 
Standard reel symbols are the regular symbols that appear on a slot machine. They do not have any special attributes. Standard symbols may fit a slot's theme, which makes it look more appealing and exciting to play. All standard reel symbols have different payouts, so make sure to check the slots paytable to see which is the most rewarding.
For more information on the various symbols and terms you find in slot machines, check out our slots terminology article.
What Do The Symbols on a Slot Machine Mean? 
If you are new to playing slots online, you may be wondering what all of the different symbols mean. Slots have both standard and special symbols. Standard symbols are symbols that have no special attributes. Standard symbols also typically are less rewarding than special symbols.
In traditional slots, standard symbols may resemble a classic fruit machine with cherries, oranges, gold bells, and bars. However, many modern slots are themed, and the symbols will match the theme. For example, an animal-themed slot may have tiger, lion, elephant, and giraffe symbols.
The symbols are perhaps the most important thing in slots. To form a winning combination, you need to match a certain number of symbols on a payline or in a slots cluster.
Slots have many special symbols, such as scatters, wilds and bonus symbols. These symbols often have special functions that enhance gameplay and may enhance your winning potential, such as unlocking bonus features like Free Spins rounds and multipliers.
Slot Machine Symbols FAQ 
What Does 3 Lemons on a Slot Machine Mean? 
If you land 3 lemons, or any matching fruits on a traditional fruit slot machine, that is a winning combination, and you will receive a payout.
What Fruits are on Slot Machines? 
A traditional fruit machine slot has a variety of fruits, including cherries, lemons, grapes, plums, and oranges.
Why Do Some Slot Machines Have Fruit on Them? 
The Novelty Company first used fruit symbols on slots in the early 1900s. Legal restrictions were just beginning of slots paying out cash. So, rather than rewarding people with cash, the Novelty Company decided to turn their slot machines into chewing gum dispensers. They replaced the playing card suits with fruit symbols, and each fruit represented a flavour of chewing gum. 
What Does 777 on a Slot Machine Mean? 
7s are a common symbol on classic slot machines. Landing a winning combination of 3 on a slot machine typically awards a payout, often the highest payout available on retro slot machines. Variations have since been introduced, such as 77s and 777s. To understand what it means on a specific slot game, check the paytable.
What Are The Most Common Slot Machine Symbols? 
The most common slot machine symbols are playing card suits or royals and fruit symbols.
*All values (Bet Levels, Maximum Wins etc.) mentioned in relation to these slot games are subject to change at any time.