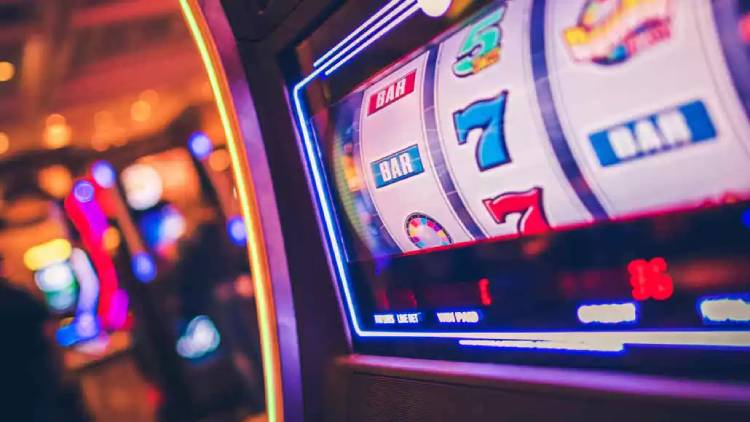 If you're new to playing casino slots online, you may not be familiar with slot machine slang. Don't worry, we're about to tell you all the online slots lingo! Cascading reels? Reel modifiers? Tumbling reels? Variance? We are about to tell you everything you need to know about online slots. After reading this blog post, you'll know all the slots lingo you need to know!
3 Reel Slot
A 3 reel slot is a classic fruit machine that has 3 reels and a few paylines. They are classic slots that can be easy to play and have limited features such as some bonus features and free spins.
5 Reel Slot
Slots with 5 reels tend to be the most popular type of online slots. As in the name, these slots have 5 reels and generally a higher number of paylines. These slots usually have lots of fun bonus features such as free spins rounds, scatters and wilds.
243 Ways to Win
243 ways to win slots are modern slots that have a unique payline system. These are played slightly different, as winning combinations can be made from adjacent symbols. 
3D Video Slots
Over the years, the quality of online slots has continued to improve. Now, there are many 3D video slots to enjoy. 3D video slots have top-quality 3D animations and immersive bonus features. 
Active Payline
To land a winning combination when playing online slots, you will usually need to land 3 or more matching slot symbols on an active payline. An active payline is the pattern on the reels that make a winning combination. All of the winning lines can be found in the slot's paytable.
All Ways
All ways slots tend to have hundreds or possibly thousands of paylines. You can create a win by landing symbols right-left and left-right.
Autospin
Many modern online slots offer the autospin feature. When you play an online slot, there is an option to click the autospin button. If you click this, you can choose the number of spins to play out automatically without having to click the spin button several times yourself. This feature is unavailable in the United Kingdom.
Bar
The bar in an online slot machine refers to how many coins you can potentially win.
Bet
A bet is the total amount of cash you wager on a spin.
Bet Max
When you choose to bet max on an online slot, this means that you are betting the maximum amount possible for a particular slot game per spin. For example, a slot machine may have a bet max of £10 per spin. This means that you would pay £10 every time you hit the spin button.
Bet Min
Bet min refers to the minimum amount you can bet per spin on an online slot. For example, a slot machine may have a bet min of 1p per spin. This means that with every spin, you will pay 1p. 
Bet One
Bet one means that you will only bet one unit per spin.
Big Bertha
Big Bertha refers to big online slots that have multiple reels.
Big Hit
A big hit is when you score a winning combination for the jackpot on a slot.
Bonus Buy
If a slot has a bonus buy option, you can pay a premium to immediately access the slot's main bonus feature, which is typically a free spins feature. This feature is unavailable in the United Kingdom.
Bonus Round
Many modern online slots have bonus rounds or bonus features. The bonus rounds are what can makes slots exciting and entertaining! Slots with bonus rounds are some of the most popular. There are many types of bonus rounds in slots, including free spins, bonus picks, jackpots, and wheels.
Branded Slots
Branded slots are online slots that are based on popular TV shows, movies or entertainment franchises. These usually have amazing top-quality graphics, exciting bonus features and potentially large top payouts. Some popular branded slots include Monopoly, Game of Thrones and Jurassic Park.
Casino Bonus
A casino bonus is a promotion that an online casino can offer to its registered customers. There are many types of casino bonuses, and they all provide different rewards, such as free spins or free bonus cash. Typically, when you join a new online casino, you will get a welcome bonus where you get free spins or free cash when you deposit a certain amount of money. There are casino bonuses for loyal customers, too, such as loyalty schemes.
Cascading Reels
Cascading reels, sometimes known as rolling reels, tumbling reels or an avalanche feature, can potentially cause a chain reaction of wins with just one spin. With just one bet, it is possible to score several wins in a row.
Cashback
Cashback is a type of promotion offered by some online casinos. In most cases, it pays back to you a percentage of the money you lose.
Cash Out
Cash out refers to withdrawing funds from your online casino account. 
Certified Slots
Slot machines that are certified can pay more back to players in the long run. They tend to have a payout of around 98% to 100%.
Classic Slots
Classic slots are old-school slot machines that look and play similar to retro online fruit machines. They usually have 3 reels and no bonus features.
Coin Slot
A coin slot is a slot machine that allows you to bet from just 1p per spin.
Cold Slot
A cold slot or tight slot is a slot machine that is said not to pay out very often.
Collect Button
The collect button on an online slot allows you to convert your credits into cash.
Comps
Comps are rewards that slot players can get in a casino. 
Credits
Credits in slots are what coins are converted to when they are in the slot machine. 
Demo Slots 
Demo slots are online slots that you can play for free and try out before playing with real money. This kind of slot is banned by the UKGC and you cannot play demo slots in the UK.
Denomination
Denomination is the value a credit has in slots. For example, when playing penny slot games, each credit is worth 1p. So, 100 credits would be £1.
Double Up Slots
A double up slot is an online slot that has a feature where gamblers can double or gamble their winnings after a winning combination.
Drops
When a slot machine mentions drops, this refers to an exciting feature where symbols drop onto the reels and replace symbols that made up a winning combination.
Expanding Reels
Expanding reels is a very exciting feature in an online slot. It is exactly as it sounds, on a slot with expanding reels, the reels will expand. This is common for multiple ways to win slots where you can unlock a bonus feature, and the reels expand. When the reels expand, you have a chance at creating more winning combinations, as there are more ways to win.
Feature
A feature in slots is a bonus round. These are typically unlocked when landing a certain combination of symbols. For example, to unlock a free spins feature, you may need to land 3 or more scatter symbols on the reels. Features can add another level of excitement and entertainment to a slot game, and slots with features tend to be the most popular. There are many types of features, including free spins features, random wilds and increasing multipliers.
Free Spins
There are a few instances where free spins are mentioned in an online casino. Free spins are something you can get from an online casino bonus, such as a welcome bonus. When playing slots online, you can have a chance of winning free spins. You can potentially win free spins during bonus features like the free spins feature.
Fixed Value Slots
Fixed value slots are slots where you cannot change the coin size or betting amount. They have one domination only.
Five Liner
When you see an online slot referred to as a five liner, this means the slot has 3 reels and 5 paylines.
Fruit Machine
Fruit machine is slang for slots in general, but it may also refer to classic slot machines. Traditional fruit machine slots have lots of fruit symbols, from lemons to cherries. They are very colourful with simple graphics and no bonus features.
Gamble Feature
A gamble feature is a common feature in online slots. The gamble feature is optional and gives you a chance to double your winnings after a winning spin.
Grid Slots
A grid slot is an online slot that is played on a grid setup, for example, 3x3. Winning combinations in grid slots are formed differently. Rather than landing matching symbols in lines in grid slots, you need to land a cluster of matching symbols to form a win. The bigger the cluster, the more you can win.
Hit
Hit is slang for a win on a slot machine.
Hit and Run
When a slot player does a hit and run, this means that they play a slot machine for a few spins and make a profit and then move onto another one.
Hit Frequency
Hit frequency refers to how likely it is to land a winning combination on a single spin.
Hold
The hold and spin feature is a popular feature in online slots. When this feature is unlocked, a reel will be locked into place, and you will be able to spin that reel again, giving you another shot at winning.
Hold Percentage
A hold percentage is the amount of money an online casino keeps from players. For example, a 97% online slot will theoretically keep £3 and return £97 back to players over time.
Hot Slots
Hot slots are slots that are said to be loose and pay out more than other slots. However, casinos do not have hot and cold slots. This term is usually used when talking about slot machine myths.
Hopper
A hopper is where the coins are held in slot machines.
Icons
An icon is just another word for a symbol in online slots. The reels are filled with different icons, and to form a win, usually use must match 3 or more winning icons. Each online slot has different icons to fit the slot's theme, from fruit icons to animal icons, space icons, and more.
Instant Winner
An instant winner is an instant win game which can be easy to play. These are created for players who want a quick game and want to see if they have won instantly. There are no strategies to perfect, simply play and it will be revealed if you have won or not.
i-Slot
An i-slot is an online slot where you can save where you are in the game and play later on.
Jackpot
Jackpots can be very appealing to many gamblers. A jackpot is a huge sum of money that some online slots offer as the maximum prize. It's the biggest possible payout you can get when playing jackpot slots online.
Lever
A lever is the thing you have to pull to make the reels spin on older land-based slot machines. New slot machines are much simpler and can be played with the push of a button.
Line
A line or payline is the line certain symbols need to match up to form a winning combination. When specific symbols land in a particular order, this results in a win.
Line Bet
With a line bet, you can choose how many lines are activated. This applies only to multiple payline slots. Choosing the max bet button can also activate all the lines.
Linked Progressive Jackpot
A linked progressive jackpot is where two or more jackpots in a slot series are linked.
Loose Slot
A loose slot machine is a generous slot that pays out regularly. It is important to note that regulated and licensed casinos do not have loose and tight slot machines. These terms are usually used when talking about slot machine myths.
Maximum Bet
On online slot machines, you will notice that there are minimum and maximum betting requirements. These differ for every slot. A maximum bet is the highest amount of money you can bet per spin.
Minimum Bet
The minimum bet is the smallest amount of money you can bet per spin when playing online slots.
Megabucks
Megabucks are slots with progressive jackpots. 
Megaclusters
Megaclusters in slots refers to cluster pays slots, which rather than using traditional paylines, use clusters. To win, you will need to land clusters of matching symbols. The bigger the cluster, often, the bigger the win.
Megaways
Megaways is a type of modern online slot. Megaways slots use a megaways random reel modifier mechanic. This random reel modifier can change how the slot is played as you are playing it. It can change how many reels there are and how many symbols appear on the grid. This increases the number of ways you can win. For example, you could start with 324 ways to win, and this could expand up to 117,649 ways to win.
Multiplier
A multiplier is the amount your bet will multiply by if you land a winning combination. You can find out how to win multipliers and what they are worth by looking at the slot's paytable. As an example, if you bet 10p and land a 2x multiplier, you will win 20p.
Multi-Line
The first slot machine has just one line. Nowadays, thanks to advances in technology, many online slots have multiple lines. A multi-line slot is a slot machine with more than one payline.
Multi-Way
A multi-way slot is an online slot with multiple paylines, often hundreds or thousands.
Nudge
Nudge is a bonus feature where you can nudge the reels to give yourself another chance of getting a winning combination.
One-Armed Bandit
One-armed bandit is casino slang for traditional land-based slot machines which require you to pull a lever to begin your game.
Online Slot
An online slot is a digital version of a slot machine which you can play from your desktop, laptop, mobile, or tablet device. Online slots can be found in online casinos, and there are hundreds of exciting ones to choose from.
Payback Percentage
The payback percentage is the amount of money that the casino pays back to players over a certain timeframe.
Payline
A payline is a line of matching symbols that are needed to form a win.
Payout
Payout refers to the amount of money you will receive if you land a win.
Paytable
A slots paytable is a table of information and instructions of a particular slot. Every paytable is different, so make sure to read it before you play. The paytable has lots of helpful information, which could include the game's rules, symbols, how much you can potentially win, and how to activate and play the bonus features.
Penny Slots
Penny slots are exactly as they sound! Online penny slots can be played for just 1p per spin. They are the cheapest online slots to play!
Pokies
Pokies is Australian slang for online slots.
Primary Jackpot
A primary jackpot is the largest sum you can potentially win on a slot machine.
Progressive Jackpot
A progressive jackpot is a jackpot that continues to grow until a player wins it. This jackpot will grow over a set time period until it is won. Once it has been won, the jackpot will start building up again. Progressive jackpot slots works by taking a percentage of each player's bet and adding it to the jackpot amount.
Random Number Generator (RNG)
A random number generator is what online slots use to determine a fair outcome for all. It is a slot algorithm that creates millions of random number sequences per second and determines the combination of symbols when you spin the reels.
Reels
Reels are the vertical positions on a slot grid. When you place a bet and hit spin, these reels will spin and then come to a stop to reveal a combination of symbols. 
Reel Modifiers
A reel modifier is like a mini bonus feature. This is generally triggered at random during the base-game. Reel modifiers are small games that you can only usually play for one spin.
Reel Stop
Reel stop means you can stop the reels.
Respins
Some online slots have a respins feature. This can add another level of excitement to the slot! When you trigger a respins feature, the symbols that made up your win will lock into place. You will then be able to spin the reels again (respin) for free. This additional spin could see you win again! The respins feature will typically continue until no more winning combinations can be made.
Rows
Rows in slots refers to the horizontal lines of symbols.
Return to Player Rate (RTP)
Return to Player rate is a term used by online casinos that refers to the amount a slot machine pays back to players over a set number of spins. Knowing the slot's RTP can help you decide if a slot is worth playing. RTP in slots is labelled as being low, medium or high. Slots with a high RTP tend to pay out more to players over time. However, RTPs are theoretical values, and as slot machines are random, they do not guarantee anything.
Scatter Symbol
The scatter symbol is a very common symbol you will see in modern online slots. Scatters can payout regardless of where they land. Typically, scatter symbols can help you unlock bonus features, including the free spins feature.
Skill Bonus
A skill bonus is a bonus feature that requires some level of skill.
Skill Stop
Skill stop lets players manually stop the reels.
Short Win
A short win is a large jackpot win after small cash spend.
Slingo
Slingo is an online casino game that combines slot games with bingo. A standard game of Slingo is played on a 5x5 grid which looks like a bingo card. Reels are placed below the grid. To win at Slingo, you need to match the numbers on the reels with the numbers on the grid.
Slot Club
A slot club is a club players can join to keep track of how often they are playing slot machines.
Slot Host
A slot host is someone who works with slot customers.
Slot tournament
A slot tournament is where slot gamers compete together on slot machines. 
Sound of Rain
The sound of rain refers to the sound a slot machine makes when money is paid out.
Spin
A spin in slots refers to when the reels are moving. When you hit the spin button, the reels will spin. They will then come to a stop to reveal a combination of symbols.
Streaky Slots
Streaky slots are slots that are said to have both hot and cold moments.
Stacked Symbols
In some online slots, symbols can appear stacked. This usually happens when you unlock a bonus feature. Stacked symbols are matching symbols that pile on top of each other, appearing in a stack. A stack can cover most or all of a reel.
Stacked Wilds
Similar to stacked symbols, stacked wilds are wild symbols that appear stacked on the reels. The wilds will appear on top of each other and can cover the entire reel.
Symbols
Symbols are the small pictures that you see covering the reels. Landing a certain amount of matching symbols on a line will result in a win. Classic slots may have fruit symbols, whereas modern slots can have a variety of themed symbols.
Three-Liner
A three-liner is an online slot machine with 3 reels. To win a three-liner, players need to line up 3 matching symbols.
Tight Slots
Tight slots are online slots that are rumoured to have bad payout rates. They are said to pay out less frequently compared to loose slots.
Total Bet
Total bet refers to the total number of credits played at one time.
Trail
Trail is a bonus feature that some online slots offer. It's an exciting bonus feature where you have to make your way through a trail or level up on a ladder for a chance to win cash prizes or free spins.
Tumbling Reels
Tumbling reels is a bonus feature that some slots have. Slots with tumbling reels give players a chance to score several wins in a row with just one spin. When a winning combination is made, all of the symbols that made that win will tumble down. These will then be replaced with more symbols. This means that it is possible to achieve a chain reaction of wins.
Variance
Slot variance refers to how likely it is to potentially win on a slot in the long term. Variance and volatility are very similar, and both words are sometimes interchanged with each other.
Video Slots
Video slots are land-based slots or online slots that are computer generated. The majority of slots you play today are video slots that are run by a computer program.
Virtual Reel
A virtual reel is what is used alongside a random number generator to make the reel act as if it had more symbols than it actually did while generating random results.
Volatility
Volatility in slots refers to the slot's behaviour regarding frequency and size of payouts. The volatility of a slot is either low or high. Slots with low volatility tend to provide small and frequent wins. Slots with high volatility tend to pay out less but may have much higher payouts.
Wide Area Progressive (WAP)
Wide area progressive slot machines are progressive jackpots that are shared with different venues (land-based) or software platforms (online). For example, in one venue, you may find a certain slot machine, and you'll find the exact same slot machine in another venue. Slots that share the same venue/software platform feed into the same jackpot and payout from the same pool.
Wager
A wager is a condition that needs to be met before you can withdraw any potential winnings. Every online casino has its own set of wagering requirements, so it's important to check them before signing up.
Wild Symbol
Most online slots have a wild symbol. Wild symbols are substitute symbols in slots, and they have the ability to substitute all other symbols on the reels to help form winning combinations. Typically, there is one exception. A wild symbol cannot usually replace scatter symbols, free spin symbols or bonus symbols. Some wilds are worth little in value on their own, however, in some slots, the wild is the highest-paying symbol.
Wild Multiplier
Wild multipliers act like normal wild symbols, with the only difference being that there is a multiplier attached. When you land a wild multiplier, your win will be multiplied.
Win
A win is when you land matching symbols on a line.
Win-Both-Ways
Win-both-ways means that you can form a winning combination with matching symbols going right to left, as well as left to right. Traditional slots only form wins in one direction.
Zig-Zag
Zig-zag is a line that can be made to create a win on a multi-line slot machine. Rather than going left to right or right to left in a straight line, a win can be made by matching symbols in a zig-zag pattern.