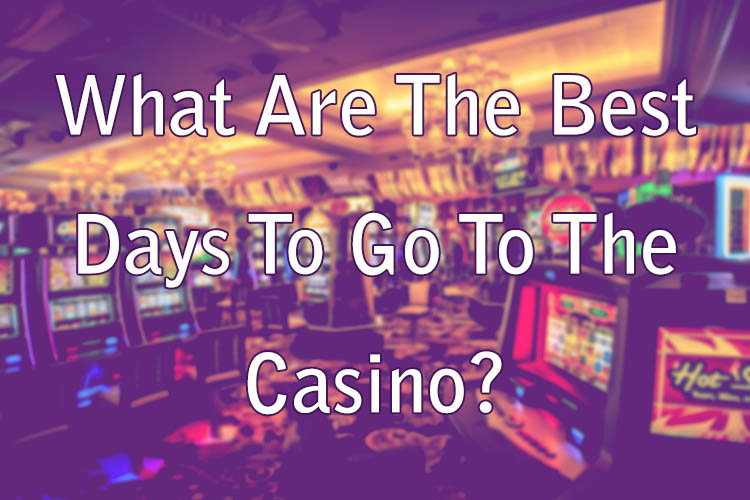 One of the most common myths is that casino payouts change based on the day. It's time to bust that myth! In this blog post, we'll investigate whether the day, time of day or time of year you go to a casino can affect how much you can potentially win. 
Do Casinos Pay Out More on Certain Days? 
You can often come across all kinds of rumours regarding what day casinos may pay out more. However, the truth is that it does not matter what day you play in a casino.
Whether it's a busy Saturday evening or a Wednesday afternoon, the potential payouts offered in a casino will be the same, completely random. This is because almost every online casino game uses a Random Number Generator (RNG).
The RNG is a mathematical device that is made to generate a random set of numbers. Online slot machines use a Random Number Generator, so all outcomes are completely random, making gameplay fair for everyone.
When you hit the spin button of a slot machine, the RNG will get to work and generate thousands of unique number sequences every second. Each number refers to a different symbol on the reels. When the reels stop spinning, a unique and random outcome will be shown. As the outcomes are always random, it does not matter what day you play at the casino.
Is It Better To Go To The Casino In The Morning or At Night? 
There isn't any reason to choose whether to play casino games in the morning or at night. The best thing is to do what suits you!
While there's no "best" time to go to the casino, a few things might help you decide when to go.
For example, if you are playing casino slots, you may enjoy going to the casino in the early evening. This is because the atmosphere can be quite happy and upbeat, as nearly everyone has likely just finished work. It also might not be too busy like it can sometimes get later in the evening.
If you're at the casino to play table games like roulette or blackjack, the "best" time to go to the casino is similar to the best time to go to play on the slot machines, when it suits you.
If playing roulette and blackjack in the early evening, land-based casinos can offer a potentially great atmosphere, and it might not be too busy. However, unlike slots, there may be fewer seats available depending on the casino.
Some may want to play roulette or blackjack in the morning. This option could allow for more room at a table as it might not be as busy, and there could be a chance to play several different games if you wish.
You'll most likely be able to pick your favourite seat and have a fun gaming session. Playing roulette and blackjack in the morning, or any casino game for that matter, could be a good option for beginners or those who have never been to a casino. The atmosphere has the potential to be less overwhelming and less distracting.
Do Casinos Pay Out During The Day? 
Yes, of course! Casinos can payout during the day… and night! It is a common misconception that casinos payout more at night, but that is simply not true. 
There are a couple of things that determine when a casino pays out. This includes the odds of a casino game and the Random Number Generator, which generates random outcomes every time a player hits the spin button. There is never a guarantee that you will win on slots or casino games, as they are completely random and games of chance.
If you want to try to potentially increase your chances of winning slots, you could have a look at the Return To Player percentage (RTP). This is a theoretical value and can indicate how much money players may receive back, on average, over a certain amount of time.
Most players tend to look for slot machines that offer a high RTP. A high RTP is usually anything with a percentage over 95%.
Slots with a high RTP can generally payout more often on average compared to slot machines with a low RTP. However, even though you may choose a slot with a high RTP, this does not necessarily mean you will win. The game may payout frequently, sometimes or not at all. 
Do Casinos Pay Out More At The End of the Month or Year? 
The day of the month does not make a difference in how much casinos may payout. There are rumours that jackpots build up and have to be paid at the end of the month, but this is not true. They payout at random! 
Casinos do have the potential to pay out more at certain times of the year. The reason for this could be because more people are playing! The more people that play, the more people could potentially win (or lose).
In the summer, casinos are likely to be quieter as many people may be on holiday or enjoying time in the sun with their families. However, during winter holidays like Christmas and New Year's, casinos tend to be busier. 
It's important to remember that casino games are built so that casinos can make money over time, and each game has a 'house edge'. The house edge is typically represented as a percentage and indicates the average profit the casino is likely to make in the long run from a specific game.
Do Casinos Tighten Slots on Weekends? 
Contrary to what some players believe, casinos do not tighten slots on weekends. 
The casino tends to be busier on the weekends, so it makes sense to assume the casino wants to benefit from that and try to make more money by changing the payout percentage. However, this assumption is completely false.
Casinos aren't typically allowed to change the payout percentage of their slot machines. The payout percentages always remain the same, regardless of the time of day or what casino you play in. Additionally, casinos must make sure all slot machines use a Random Number Generator to ensure games are random and fair for everyone.
Promotions 
If you are really unsure when to play pay by mobile casino games or slots, it may be worth waiting until there is a promotion running.
Many casinos offer lots of promotions that may attract new players and can potentially reward returning players. Here are some of the most popular casino promotions you may find:
A Welcome Bonus

: Many casinos, both

land-based and online

, have

welcome bonus

offers for new members. Generally, if you register with a casino, you will need to make a

minimum deposit

. Once you have made

a deposit

, you may then gain an incentive such as bonus cash or free spins on particular slot machines. However, Welcome Offers can differ between each casino, so be sure to check if any promotions are running, and you can also have a read of the terms and conditions.

Bonus programs

: Bonus programs, if offered, can occasionally reward players when they play, or if they visit the casino. For example, in some casinos you may earn a point for every £1 you bet.

Bonus programs

tend to have multiple tiers, with the highest tier typically offering the best rewards. Some of the benefits and rewards you could receive include possible free spins, vouchers, and bonuses or gifts on your birthday. But again, this depends on the casino.

Refer a friend

: Many casinos also offer a friend referral scheme. Some people may not consider this a promotion. However, if you refer a friend and they register with the casino, you both may be compensated.

Slot tournaments

:

Slot tournaments

can be fun to take part in. The aim of a slot tournament is to try to get the highest score on the leaderboard. Many casinos hold regular slot tournaments, and the winner (and runners-up) can receive rewards such as prize money. All of the possible prizes usually go to the highest scorers. 
If you can't make it to a land-based casino, you can take advantage of the Wizard Slots promotions! Here at Wizard Slots, we have various exciting promotions, such as happy hours, CashDrops, trophy rewards, and more! You can view our Promotions page for more information.
New players can sign up and become a member of Wizards Slots online. Once you have registered, you'll gain access to some of the best online mobile slots, including the following: 
Summary of The Best Time to go to The Casino
Despite many rumours and assumptions stating when the best time to go to the live casino is, it's essentially up to you to decide the best time! The best time to go to the casino is when it is most suitable for you! Here's a quick summary which may help you decide.
If you want a quieter atmosphere, or you're a beginner wanting to go at your own pace, you may like to play during the following times:
In the morning

During off-peak times

In the summer
If you like a busy, crowded atmosphere, enjoy the liveliness and don't mind waiting, you may like to play during the following times:
At night

During holidays, including Christmas and New Year's

On weekends

After work
*All values (Bet Levels, Maximum Wins, etc.) mentioned in relation to these slot games are subject to change at any time.