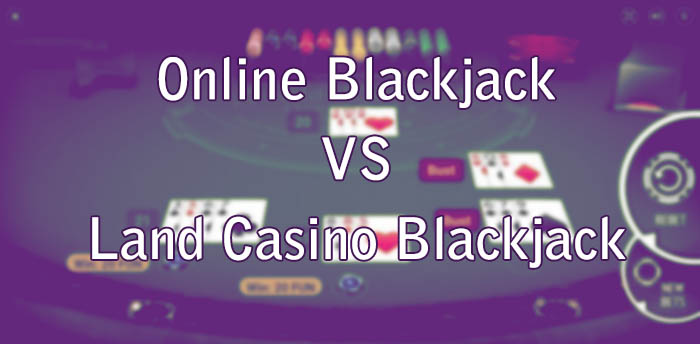 One of the best things to happen to the casino world is the evolution from physical casinos to online casinos. Players are spoilt for choice since they can do it from the comfort of their own homes or at their local casino.
In addition, both options offer a selection of pay by mobile casino games, including slot games, bingo, scratch card games, table games, and more. So, if you're thinking of playing online blackjack or land casino blackjack, let's look at the pros and cons of each below.
Pros of Playing Blackjack Online
Playing blackjack online has a few pros for players keen to enjoy their favourite table game on the move. For example:
Casino Welcome Offers
Casino welcome offers or bonuses are usually one-time special bonuses available to claim when you join an online casino. They're redeemable on certain games, depending on the casino you register at. As such, some online casinos may offer welcome offers for blackjack, like bonus funds you can use to play.
Online Blackjack Is Faster
Usually, playing blackjack at a casino table means you have to wait for other players' decisions before making a move. However, if you play blackjack online at Wizard Slots casino, you won't have this problem. 
Playing online blackjack is faster because you don't have to wait for other players or the dealer to shuffle cards. Instead, you can play 1-on-1 against the computer, which uses a Random Number Generator (RNG) to ensure random outcomes.
You Don't Have To Deal With Other Players
It can be a little intimidating to be at a blackjack table, regardless of whether you're a beginner player or an expert at the game. However, online blackjack won't pose that problem because you can play by yourself if that is your preference.
You Can Often Play For Much Lower Stakes
Most online casinos don't offer the same minimum table limits you might find at physical casinos. Instead, they often provide the option to play with lower stakes, some allowing you to bet less than £1 per hand. 
Online Blackjack Can Be Played Anywhere, Anytime
An active online casino membership, such as at Wizard Slots online casino, means players can log in and play blackjack at a time and location that better suits them. Your personal schedule and circumstances may mean that getting to a physical casino isn't feasible, and online blackjack may help in this regard.
Pros of Playing Blackjack In a Casino
Aside from enjoying an authentic casino experience, land-based casinos can have many advantages for a blackjack player. Examples include:
Slower Games Can Mean Lower Hourly Loss Rate
A slower game has significant benefits in the long run. Not only could your hourly loss rate be lower than playing online, but it may be easier to track your wins and losses, as well as your own funds. Knowing where your money is going is critical in helping you make strategic decisions, such as how or when to play.
Card Counting Or Shuffle Tracking Is Easier
Online blackjack has systems in place to discourage card counting and shuffle tracking. For example, the game is faster online, so you can't count cards per hand. In addition, the shoe changes randomly, so you can never trace how often shuffling occurs. However, if you play blackjack at a physical casino, you can trace the cards because you can see the dealer physically shuffling.
You Can Socialise With Other Players
The peace that comes with online blackjack has its disadvantages. You won't get to socialise with other blackjack players and form the camaraderie that sometimes comes with the game. However, at physical casinos, you can chat with other players while also potentially picking up useful tips for the game.
Is It Easier To Win Online Blackjack?
Playing online blackjack is more convenient than playing at a land-based casino. It's easier to play, but not necessarily easier to win online blackjack. Sure, online blackjack has a lower house edge of 0.5%, but that doesn't mean the game has better winning odds. Online blackjack uses Random Number Generators, meaning every outcome is random.
Online Blackjack VS Blackjack at a Casino
If you're debating whether to play online blackjack vs blackjack at a casino, you might want to consider what your goal is. For example, do you want to be able to play when it is convenient for you without travel? Then, online blackjack might be best suited for you. However, if you prefer to play amongst others and enjoy a genuine casino experience, perhaps you can consider playing blackjack at a casino.
Is It Worth Playing Online Blackjack?
If you want to play online blackjack, create an account and log into Wizard Slots. Not only does online blackjack have a slightly better house edge, but it also means you can cater playing to your schedule more than in a physical casino, where you may encounter issues such as a long wait for a table, different opening hours and high minimum stakes.
Conclusion
Online blackjack vs land casino blackjack is an ongoing debate. However, we'd advise players to consider both options before deciding which one they like best. Neither is necessarily better than the other; each has its place and can appeal to different players.
*All values (Bet Levels, Maximum Wins etc.) mentioned in relation to this slot game are subject to change at any time.