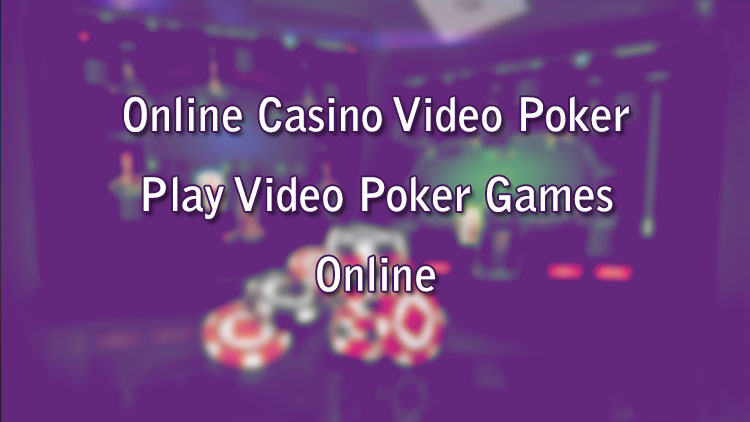 It's time you went through our poker games at Wizard Slots casino if you've been curious about online casino video poker. One of the best things about video poker games is that they let you enjoy your favourite card game without the typical distractions that can be found at a land-based casino.
We have an online video poker guide below for anyone who wants to know more about the game or how to play poker online at Wizard Slots.
What Is Video Poker?
Video poker is a poker game you can play on a computer or mobile device. It's the same as the standard poker you would play in a land-based casino, except instead of using a real dealer, it uses Random Number Generator (RNG) software. 
How To Play Online Video Poker
You can play video poker online at Wizard Slots with an active casino account. Simply log in and select your preferred video poker game.
Set your preferred bet.
Click 'Deal' or 'Draw' to start playing. The game deals you five cards. Click on one to keep it or unselect it to discard it. You can unselect all the cards if you don't have any matching pairs or winning combinations.
You can click 'Deal' twice for each hand.
However, this may change depending on the poker game you are playing. To learn more about a specific poker game, you can refer to the game's rules.
Can You Win At Online Video Poker?
It's possible to win at online video poker if you have a winning hand. If this happens, the game may display 'Winner' on the screen and pay you accordingly.
The money reflects in your credits balance. 
Looking for a video poker game with a high RTP (Return to Player) may also help increase your chances of winning. However, like all casino games, nothing can ever be guaranteed.
Best Video Poker Games
Video poker games are some of the most played casino games. Some of the most popular tend to be;
Jacks or Better
The objective of Jacks or Better is to try and achieve the best poker hand. A pair of Jacks or better opens the pot. You can get an extra point for each pair of Jacks or any higher cards. In addition, you can play up to 100 hands at a time.
Aces & Faces
Aces & Faces is a poker game similar to standard poker. However, it offers potentially high payouts for hands with four Aces or four face cards.
You play the game the same way you would play Jacks or Better or another poker game. For example, you receive five cards to start and may encounter the same hands as in standard poker.
Deuces Wild
Deuces Wild has the same layout as standard video poker. The objective is the same as always; attempt to achieve the best possible hand. However, all deuces are considered 'Wild' cards. So, for example, if you have a pair of queens & a deuce, the deuce counts as a queen so it's three-of-a-kind queens.
The game usually plays out in two rounds. Your task is to choose which cards you want to hold before new cards are dealt for those discarded. Round two is the 'Showdown' round, where no extra cards are dealt.
3 Card Brag
3 Card Brag is one of the oldest and most popular card games. Each player receives a set of three cards facing down. They can then take actions like betting or folding to potentially change their hand.
The betting continues until two players remain. A showdown starts at this point, with the player with the best hand potentially winning the pot.
One strategy some punters use to play 3 Card Brag is bluffing. They try to bluff their way through the showdown, thus fooling players into believing they have the better cards.
Play Video Poker Games At Wizard Slots
You can play some of the most popular video poker games at Wizard Slots.
Just join or log in to your Wizard Slots account to play the best online video poker games. If you do not have an active casino account at Wizard Slots, you can follow the short steps below to get started;
Click the Sign Up button.

Provide any details requested.

Make your first minimum cash deposit.

Search for and load your preferred poker game.
Unfortunately, some of the poker games mentioned in this post may not be available at Wizard Slots.
*All values (Bet Levels, Maximum Wins etc.) mentioned in relation to these games are subject to change at any time.