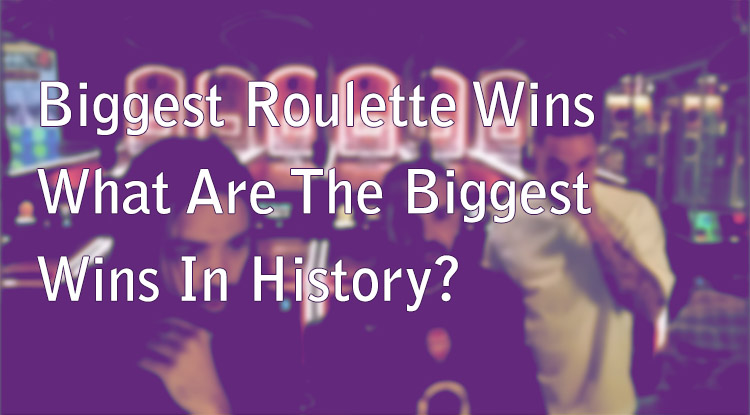 Roulette is rated one of the top-ranking casino table games available. Its simplicity and odds make it a favourite amongst casino players. It involves the dealer dropping a ball into a spinning wheel. You place a bet based on where you think the ball will land, and if your prediction is correct, you receive a payout.
Though it may sound simple, it is an unpredictable online casino game that has the potential to be unforgiving. Unfortunately, that has contributed to the myth that casino games are rigged and no one ever wins. 
In this post, we will debunk this by revealing the biggest roulette wins in history, so carry on reading!
Who Has Won The Most On Roulette?
Roulette is a game of chance with a typical house edge of 2.7% or 5.26%, the former is for single-zero variations (e.g. French and European roulette), and the latter is for double-zero variations (e.g. American roulette). 
Essentially, this means that over time, you are more likely to lose than win in the long run when playing roulette or any pay by mobile casino games, which is why we always encourage players to game responsibly, only play with money you are comfortable losing, and not looking at gambling as a way of making money.
With that said, there are instances where players land massive wins from roulette. These wins date back to the 1800s, but the most recently recorded was an online game by the famous Canadian rapper Drake. 
Next to his hit records, Drake is also known for being a high roller and frequent gambler, often playing roulette online or sports betting. In July 2022, Drake won over $25 million (about £20 million) playing roulette online. 
However, by the end of the night, he had lost most of that money to losing bets and gave some away to his viewers. In May of the same year, the rapper had won $17.9 million (£14.8 million) on a single spin.
Biggest Roulette Wins In History 
Over the years since roulette's inception, there have been many players to bag the biggest wins in roulette. Let's look at some remarkable examples below:
Charles Wells
We cannot talk about the biggest winners of roulette without mentioning Charles Wells; the first recorded biggest winner of roulette. Charles Wells is known as "the man who broke the bank at Monte Carlo" after he won 2 million francs in Monte Carlo in 1891. 
He made it to the history book because the casino only held 100,000 francs at a time, and they referred to this as "the bank", hence the "breaking the bank" label.
Pedro Grendene Bartelle
Pedro Grendene Bartelle is a Brazillian businessman who, in 2017, won $3.5 million (£2.9 million) playing roulette in Uruguay. 
Sir Phillip Green
Sir Phillip Green is said to have also broken the bank in a London casino called the Les Ambassadeurs. The business mogul won £2 million, breaking the casino's bank and allegedly putting the shareholders at risk.
Mike Ashley
Another British businessman, Mike Ashely, landed a staggering £1.3 million at Fifty Casino in Mayfair, London, in 2008 on roulette after placing a £480,000 complete bet on 17.
Ashley Revell
While Mr Revell did not rake in millions like those mentioned above, he did do one of the most daring things roulette players have done. 
Mr Ashely Revell emptied his savings, sold his assets and wagered the entire $135,000 (£122,000) he had to his name on red. His all-or-nothing approach saw him walk away with $270,000.
Play Roulette Online
If the above historic wins inspired you to try your hand at roulette, we have a few roulette games you can try right here at Wizard Slots. 
We would not recommend you empty everything you own and stake it at a roulette table as Mr Revell did. Instead, we recommend you give our roulette games, where stakes can start from as low as £0.10 per spin, a go!
As always, remember to gamble responsibly, and - we cannot stress this enough - do not chase your losses. Instead, only play with money you are comfortable losing.
*All values (Bet Levels, Maximum Wins, etc.) mentioned in relation to this game are subject to change at any time.