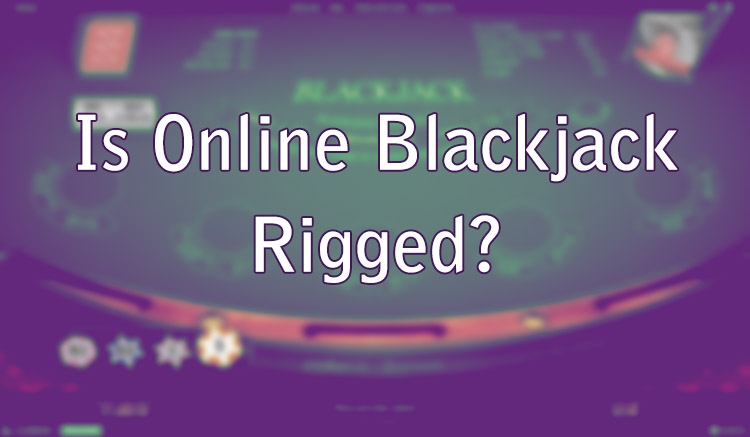 In this Wizard Slots blog post, we'll answer one of the most asked questions many blackjack players have - is online blackjack rigged? If you want to find out the answer, read on!
Is Online Blackjack Rigged?
No. Online casinos are not rigged. There are many things that prove online casinos and their casino games are not rigged.   
Firstly, top casino game developers will not want to be associated with online casinos that rig their casino games, and casinos will not want to risk their licence by stocking rigged games.
All reputable developers design games that cannot be rigged by the online casino or its players. They do this by incorporating a Random Number Generator (RNG) into the design. A Random Number Generator is a computational device designed to generate random outcomes in casino games, including blackjack. 
However, there are also Live Dealer Blackjack games. Although live dealer blackjack games do not use an RNG, there is still no way for them to be rigged. Live online blackjack uses real dealers, and the cards are dealt in real-time. The action is captured on camera, so there would be no way to cheat and not get caught. 
Players can trust that online blackjack is not rigged, as online casinos in the UK are subject to laws that enforce the safety of players and fair gameplay. All legal online casinos in the UK must be licenced and regulated by the UK Gambling Commission (UKGC). 
There would be no reason for an online casino to rig blackjack because the UKGC can give out hefty fines and even remove licenses to casinos that don't operate fairly and correctly. The UKGC also carries out regular checks to ensure games are fair and random.
Can Online Blackjack Be Beaten? 
Every blackjack game has a house edge. House edge refers to the casino's built-in advantage. The house edge of blackjack is built-in by the developer and cannot be changed by the online casino.
It's the house edge that allows online casinos to make money in the long term. While players do win and blackjack has some of the best odds compared to other casino games, in the end, the casino wins. The house edge for blackjack online can be as low as 0.5% if you are using basic blackjack strategy.
How Random Is Online Blackjack? 
Every game of online blackjack is random and fair. How can we be sure of this? The RNG! All online blackjack games - with the exception of live blackjack - use a Random Number Generator (RNG). The purpose of the RNG is to ensure unpredictable outcomes and guaranteed fairness for all players.
The RNG takes the place of the human dealer. Rather than a person dealing the cards, the RNG shuffles and randomises the order of the cards. It does this by using complex algorithms and mathematical formulas. 
As online blackjack uses an RNG to randomly deal cards, this prevents players from being able to cheat or count cards, making gameplay fair for all. Live dealer blackjack does not use an RNG. To ensure gameplay is fair, live blackjack games are recorded in real-time, and you can see the cards being shuffled, either by hand or in an automatic shuffler. 
Is It Better To Play Blackjack Online Or At A Casino? 
Playing blackjack at a traditional casino will likely be preferred by some players as sometimes, you cannot beat the real-life environment the casino has. If you play blackjack at a brick-and-mortar casino, the game could be more entertaining because of the atmosphere. Also, the social element is something you cannot get from an online casino.
However, there are so many reasons why players choose to play blackjack online. Firstly, you can play a great range of blackjack games at your fingertips. Online casinos are also open 24/7! So, you can log in to your Wizard Slots account and play blackjack at a time and place that suits your schedule.
Playing blackjack online is also an excellent option for newbies. Sometimes, playing at a land-based casino can be quite intimidating, especially if you are new. Playing online allows players to learn basic blackjack strategy and try new techniques at their own pace.
*All values (Bet Levels, Maximum Wins etc.) mentioned in relation to this game are subject to change at any time.