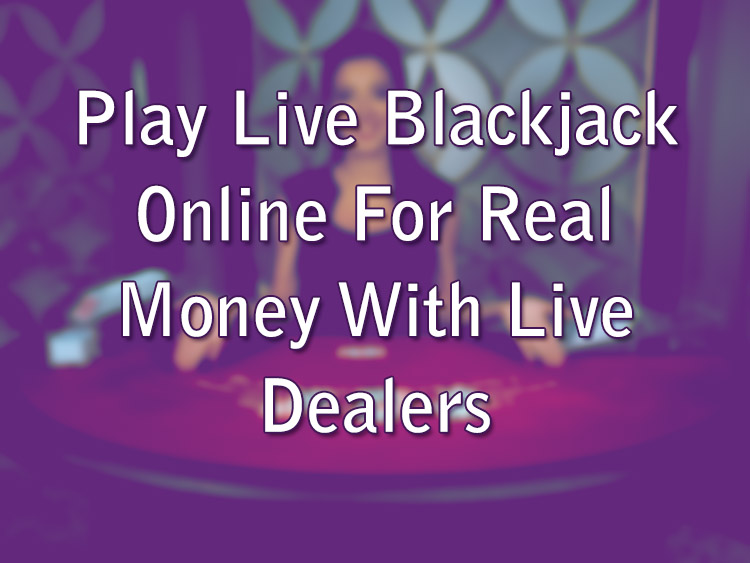 One of the best things about modern casino gaming is the access to different game variants. If you're into slot games, you can find 3-reel slots, 5-reel slots, Megaways slots, and so much more. There are plenty of casino table game options if you enjoy those too.
You can find all of these here at Wizard Slots, and one example we're going to discuss in depth is Live Blackjack, which you can also play online at our site.
How To Play Live Blackjack Online
Live Dealer Blackjack has the same rules as standard blackjack. So, the goal is to have a hand total that is closer to 21 as possible but never over. Cards 2 to 10 are worth face value, but the K, Q, & J are each worth 10. Aces can be worth 1 or 11.
If your hand goes over 21, we call it a bust, and you lose. Blackjack players don't play against each other. They play against the dealer.
The objective of blackjack is to achieve one of the following:
Have a card total higher than the dealer's without going over

21

.

Win if the

dealer goes over 21

, i.e. the

dealer goes bust

and loses.
You've logged into your Wizard Slots casino account and want to play Live Blackjack online. After choosing a Live Blackjack game, the game plays out like so:
Place your bets within the given time limit.
The dealer deals the cards and waits for your decision. You can either Split, Double, Stand, or Hit.
If you 'Stand', you think you're accepting your hand as it is and don't need any extra cards. A 'Hit' means that you want to receive another card. To 'Double' means you want to double your bet in the middle of a hand and receive a single extra card in return and end your turn. A 'Split', on the other hand, can be made if you have two matching cards. You then play the two as separate hands. You place a bet on the new hand matching your original bet, and you receive another card to each hand and play through one and then the other as normal.
The dealer plays their hand after all players complete their turns. They reveal the face-down card. If their two cards total less than the hands of players still in the game, then they have to Hit. However, the blackjack rules vary as to whether the dealer Stands or Hits if the cards add up to 17. Remember, dealers can bust too.
The dealer pays out any winning bets at the end of the round.
Live Dealer Blackjack - Play Against Real Dealers
There are many benefits of playing Live Dealer Blackjack. Aside from enjoying the fun of playing against real dealers, you can also experience the following:
No wait-times
You don't have to wait for a Blackjack table since one is always available. Playing Live Online Blackjack at Wizard Slots means you can play at a time and place that suits you without the struggle of finding a table or feeling the pressure of surrendering your table position.
No awkwardness
You don't have to bump shoulders with other casino players or tolerate loud players at the table. You can chat with other players and the dealer as you would at a physical casino except through the chat function, but there's no need to worry because no one can see or hear you.
Actual dealers
Playing online blackjack lets you have a direct link to the dealers. They operate the game and react to your decisions. It makes the experience as vivid as playing blackjack at a physical casino.
Access
Perhaps the best perk of Live Dealer Blackjack would be unlimited access. For example, you can play the game on mobile devices too! There are numerous Live Blackjack games available at Wizard Slots. All you need is a registered account, and you'll have real dealer blackjack at your fingertips.
Best Live Blackjack Games
If you're looking for the best Live Blackjack games, you'll find them here at Wizard Slots. Browse our collection for our full offering, but here is just a couple you can find on our site:
Eclipse Blackjack:

This live blackjack game comes from On-Air Entertainment. There are no limits to the

number of players that can take a seat

, and the betting limits go from £1 to £500. This live blackjack game also allows players to

place bets on all

side bets

in one click should they choose to; they simply just need to click the 'place all side bets' button.
ONE Blackjack:

ONE Blackjack is a live blackjack game from

Pragmatic Play

that allows players to place bets from between £1 and £500. There's only one

seat at the table

, but the game allows for an unlimited

number of players

. The slot game offers a range of existing and new side bets, including one that could see players win up to 2,000x their stake.
Blackjack London:

Another live blackjack game from On-Air Entertainment, Blackjack London is one of the other tables available. Like most of On-Air's live blackjack tables, it can sit up to 7 players at once, and it is

played with

8 decks

of 52 cards

. The betting range is between £5 and £500. Players can double down on any initial two cards except for a natural/blackjack. Players can also split pairs, but only once per hand.
Enjoy Live Blackjack On Your Mobile
Access meets convenience when we talk about playing Live Blackjack online. You can access the game on various mobile devices, including tablets and smartphones. You simply go to Wizard Slots on your mobile device's browser, log into your account and load up a live blackjack game as normal.
The graphics look just as clear on smaller screens like smartphones. And, of course, you can still follow the proceedings as actively as you would on a PC screen.
Where Can You Play Live Blackjack Online?
You can play Live Blackjack online right here at Wizard Slots online casino. However, you need an active account to play casino games online. Don't worry, you can complete the registration process in a few steps:
Visit the Wizard

Slots casino website

and click 'Sign Up'.

Follow the steps, filling in your details in the dialogue box on the screen.

Make a minimum

cash deposit

to finish the process.
You can then play Live Blackjack online at Wizard Slots.
*All values (Bet Levels, Maximum Wins etc.) mentioned in relation to these games are subject to change at any time.