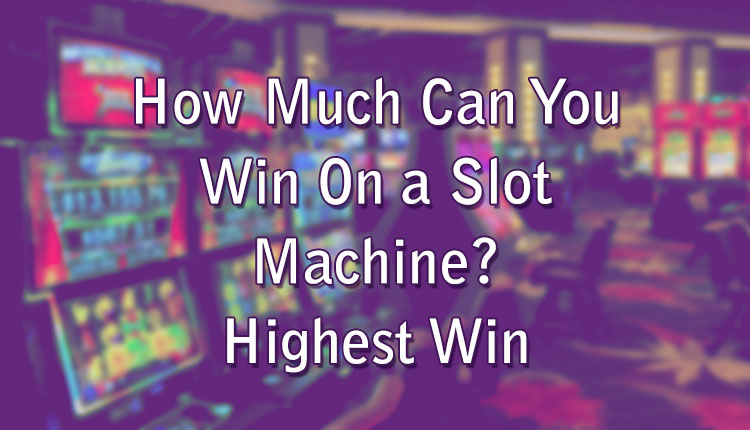 Although slots are intended as a form of entertainment, their potential to award impressive payouts has led to players asking: "How much can you actually win when you play slots online?". 
That's exactly what we're going to discuss in this Wizard Slots blog post. Here, we'll talk about the highest slot win and the factors that determine the size of a slot's payout.
Can You Win Big On Slot Machines?
It is possible to win big on slot machines. Slots are a game of chance, and with such a range available, some offer larger maximum potential wins than others. Jackpot slots are ones that offer large potential wins, especially progressive jackpots.
Progressive jackpot slots take a portion of each bet placed on the slot game and add it to the pot, so the top prize increases as players play the slot game. 
They can also come as progressive jackpot systems with multiple contributing slot games, with part of each bet on all participating games adding to the pot. It increases until it is won, then it returns to a seed value and begins increasing again.
Mega Moolah is one of the most popular progressive jackpots. Mega Moolah is famous for reaching some of the biggest jackpots. In 2021, a player won over €19 million.
While it is rare to win big on slot machines, it does happen. If playing slots online for real money, the chances of winning or triggering a bonus or jackpot prize are the same on each spin. This is because of the Random Number Generator (RNG).
The RNG is responsible for creating a random outcome on slots every time a player presses the spin button. The RNG randomly and continuously generates random number sequences, even when no one is playing the slot. This means that all outcomes are random and unpredictable. It also means that each spin is an independent event, so previous results have no impact on future results.
What's The Highest Win On A Slot Machine? 
Each slot machine has a different top possible payout. You should be able to find this information in a slot's paytable if you are curious. 
The only exception is progressive jackpots, as these have jackpots grow every time someone places a bet. The prize continues to increase until someone wins, which could be any time. The jackpot prize is different every time, too.
Mega Moolah is one of the top jackpot slots famous for its high jackpot wins. The Mega Moolah slot holds the world record for the highest payout on a casino slot machine. In 2021, a player in Belgium won the largest progressive jackpot win ever of €19,430,723.60.
Do Slot Machines Ever Pay Out?
Slot machines do pay out, and there are various factors that determine how much and how often. One thing that can determine a slot's payout is the Return To Player (RTP) rate. 
RTP refers to the amount of money the slot pays back out to players over a long period. It is a theoretical value calculated across a vast sample of spins, so results may differ in reality. Many players prefer to play slots with a high RTP as, theoretically, they pay back more to players over a number of spins.
Another thing that can help you understand how slot machines pay out is the volatility. Labelled low, medium or high in slots, volatility offers an indicator of a slot's payout behaviour. 
How Often Do Slots Pay Out Big?
How often a slot pays out big depends on its volatility. Volatility in slots is a theoretical indicator of the slot's payout size and frequency.
Higher-volatility slots are likely to award more substantial payouts than lower-volatility slots but are likely to land wins less frequently, theoretically. Even though wins are potentially less frequent, high volatility slots are still popular as they often offer some of the largest top prizes. 
These ratings are theoretical, as slots are random and unpredictable, so results may not necessarily reflect this. For example, if playing a high-volatility slot, it's possible to go on a winning streak, just as it's possible to experience a losing streak on a low-volatility slot game. Nothing is guaranteed.
What Triggers The Jackpot On A Slot Machine? 
There are many different ways to potentially trigger the jackpot on a slot machine. This includes randomly on any spin, matching certain symbols on a payline, by playing a bonus game, if it's close to a certain amount, and within a particular timeframe.
The best way to know how the jackpot is triggered on the slot machine you're playing is to look at the paytable. The paytable has all the information you need on how to trigger wins and bonus features, including any jackpot prizes. 
*All values (Bet Levels, Maximum Wins, etc.) mentioned in relation to these slot games are subject to change at any time. Game features mentioned may not be available in some jurisdictions.