You cannot underestimate the importance of slot game developers on the rise and rise of the popular online gambling format. More people are playing online slot games than ever before and this is largely thanks to the good work that developers such as NetEnt have done in recent years. There are now so many titles to choose from if you want to spin the reels of an online video slot machine and the game format as a whole has come on leaps and bounds since being reduced to a fruit machine in the corner of a pub. Nowadays, the online slot game is an immersive experience all round, with several ways to win, ambitious themes and 3D graphics. To celebrate the new wave of online slots, we have picked five games from one of the best slots developers, NetEnt. They are wonderfully prolific and have been creating online slot games for some time now, picking up plenty of admirers along the way. Perhaps most importantly, all the best online slot games made by NetEnt are easily accessible via smartphones, tablets and desktops, meaning the modern gambler has them at their fingertips. From NetEnt slot games you can expect a wide range of thing. Not only are their slots smartphone ready, they are also fully optimised for the platform as well. This means the level of graphics remains at the same high standard no matter what screen you play on, a sig of true craftsmanship fro, the talented team of designers, coders and developers at NetEnt. On our list of the 5 best games from NetEnt, we have a wide range of themes, going from the all-action adventures like Gonzo's Quest, to more simple games where the emphasis is perhaps more on the end goal of winning big. All these games can be played on mobiles, tablets and desktops so, no matter how you play, all these titles will suit you down to the ground. Without any further ado, let us jump into the world of NetEnt with this, their best five slots to play online.
Gonzo's Quest Casino Slot
We start our list with an overwhelmingly popular choice, as Gonzo's Quest seems to be near the top of the popularity lists at several online casinos. The Mayan, Aztec, adventure-themed slot game captures the imagination of all who spin it's five reels. Led by the charismatic and humble hero Gonzo, you must lead him through trials in the Amazon rainforest, collecting wins on your way. Great stuff and great graphics from NetEnt, too, who always put a high level of detail into their 3D adventure slots like this one. Thanks to it's great narrative and wonderful depiction of the rainforest, Gonzo's Quest has become a cult classic amongst those in the slot game community. Don't miss out on a legendary title.
Play Narcos Slot
Slot games can have any theme and that is the beauty of them. This slot is inspired by the popular series, Narcos, and does well to convert the characters and setting into an online gambling spectacle. There are examples of movies and series being converted into slot games all across NetEnt's slot game line up, but this has to be one of the best. The sun-kissed setting is well depicted and all the characters from the game have a part to play in clever bonus features that do justice to a modern classic of a series. If you have finished the series on Netflix, why not jump into the action yourself. Do not expect any spoiler alerts if you are yet to finish the adrenaline-fuelled series, either, as this game runs alongside its existence rather than giving too much away.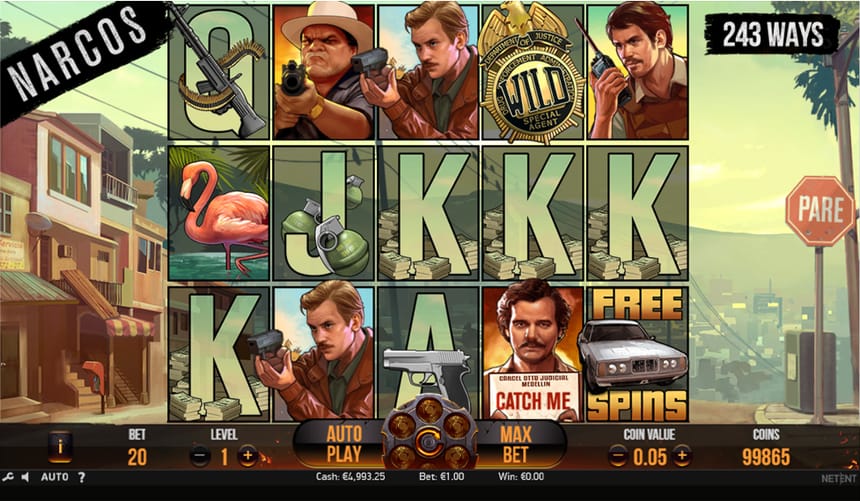 Mega Fortune UK Slot
As far as unique themes and great graphics go, you probably would not put Mega Fortune to high up the table. However, for the sheer amount of money that can be won playing this slot hame with a progressive jackpot, it has to make the list. A life of luxury seems to be both the theme and the end goal. People have literally won million playing this jackpot-led slot game and this has made it quite famous. The betting margins are big, too, meaning that a small bet can escalate over time and with a bit of luck, turn into a small fortune. Or more so, a mega fortune, as this online slot game very much does what it says on the tin.
Blood Suckers Slot
Vampires were all the rage at one point during the 2010s, as movies and series seemed to hop on the trend of teenage vampire media. NetEnt did the same too with Blood Suckers, a sinister but very well designed online slot game. The game has a chilling soundtrack and a load of bonus features that will certainly increase your chances of getting a decent sized win. So lots to like if vampires are your thing.
Starburst Online Slot
One of the most popular and best slot games to play on this list of best NetEnt titles, Starburst must be one of the most played online slot games of all times. Released back in 2011, it was ahead of it's time with great graphics, optimised gameplay on smartphones and tablets and some very generous payouts. This is a game you can easily find offering some free spins across many online casinos, so if you are yet to try this iconic slot game, you can probably do so for free. The colours in this are vivid and animations are effortlessly smooth. The slot games runs so well on smartphone and this was a big reason for the popularity of the game right from the early days of its release. Launched when smartphone gambling was just kicking off, this game has become a timeless one and still has thousands of people playing it today. The big amounts of money being won have not changed either, as this is one of the most played and therefore most won slot games to ever exist.
You can play all of the above games on Wizard with our slot promotions, which offer up to 500 free spins! Check them out now!