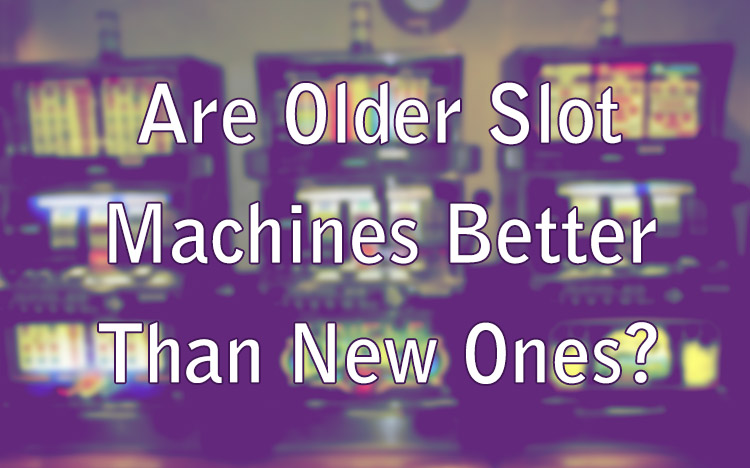 Classic slot machines have graced casinos since the late 1800s and have paved the way for the modern video slots we often see today. 
Although they are pretty rudimentary compared to modern slot games, some slot players still prefer older slot machines over the new ones.
That has led to many punters questioning whether older slot machines are better than the new ones. In this Wizard Slots blog post, we explore this question and more in an attempt to settle the debate once and for all, so continue reading to find out!
Are Older Slot Machines Better?
Both old and new slot machines can satisfy different needs of their players, so it's difficult to say one or the other is better. It mainly comes down to personal preference.
Granted, the newer models can offer more advanced and potentially lucrative bonus features, whereas the old mechanical slot games tend to be simpler with uncomplicated features, if any.
The older models often feature fewer paylines. Some have between 1 to 9 paylines and little to no bonus features, while some new slots can offer more than a million ways to win and various bonus features, depending on the game. In addition, older land-based mechanical slot machines need to be fed coins with each spin. 
But, with the new online models, you can deposit an amount of money you're comfortable playing with and set how much you would like to wager on each spin. Then, the machine takes care of the rest. 
However, other new slot machines are created to emulate the older classic slot machines. They typically have symbols associated with older slot machines, fewer paylines and little to no bonus features. 
An example of such a slot is the 7's Deluxe slot game. This video slot has 3-reels, 5-paylines and uses fruits and 7s as its symbols, true to classic slot game mechanics. It also offers a wild symbol that can only replace the regular 7 symbol if it lands.
Do New Slot Machines Pay Out Better? 
The potential payouts from slot machines have little to do with when the machine was created and may depend on game characteristics such as the Return to Player (RTP) rate, volatility and the potential maximum win prize.
A slot game's RTP rate is a percentage that can indicate the amount of money you may win back over time. It is calculated over a long period of time through thousands of spins, so it is important to note that this value is only theoretical. It does not guarantee anything, as slots are random in nature.
For example, a slot game with a 96% RTP means that that machine is expected to pay out £96 for every £100 wagered. 
However, this may only happen over a long period of time, not with every spin. Moreover, you could win nothing over many spins, or the jackpot prize on the first spin because slot games are chance-based and controlled by Random Number Generators (RNGs).
In terms of volatility, newer slot games can offer low, medium and high volatilities, while the older ones were often just low-volatility slots. Volatilities may indicate how often the slot game is likely to hit a win, and how big or small that win may be. So, for example, if you play a high volatility slot, that means the chances of winning are slightly lower, but if you do win, the prize may be more significant. 
So, both the old and new slot machines have the potential to offer better possible payouts based on the factors above, not their age.
Remember, slots run on RNGs, so every spin is unpredictable, making them fair for all players.
How Can You Tell A Good Slot Machine?
As a general rule, a 'good' slot machine is often one that offers a high RTP rate. But, this depends on the player. There is a lot more that makes a slot machine a good one, not just the RTP alone. For example, a slot game can have a high RTP but poor graphics and too many complicated bonus features.
So, in order for a slot machine to be considered good, it has to tick all the boxes that make slot games enjoyable for the individual player. This could potentially include a good RTP rate, excellent bonus features, graphics and a reasonable top potential prize.
The player is the ultimate judge, as each individual may prefer different things. For example, perhaps you prefer playing high-volatility games and cannot be bothered by graphics or RTP rates. Or you may like your slot games classic with little to no bonus features or fewer paylines. 
If you play a slot machine that suits your desires, it can just as easily be a good slot machine for you. So, while the features above are generally what some players look for, others may have differing views and preferences.
How Do You Win On Old Slot Machines?
When it comes to slot games, no strategy can help you maximise your chances of winning. Remember that all slot games are games of chance determined by RNGs.
Generally, the only way you can win when playing slot machines is if you form a winning combination across a payline, depending on the game. Each slot game will have "How to Play" instructions detailing how much the symbols are worth and how you can create winning combinations.
Typically, in old slot machines, you only need to land three matching symbols on a payline, from left to right, to form a winning combination. Classic games usually have one payline running across the reels. So, if you land the winning combination on three consecutive reels starting from left to right, you may win per the paytable.
While most traditional games did not offer bonus features, they may have one particular symbol that could trigger a jackpot, which is often the 7s. For example, they could be double 7s or triple 7s. So, if you land the 7s on consecutive reels on the payline, you would be the jackpot winner. But again, each slot game is different, so be sure to read the game rules and paytable.
Conclusion
Both the old and new slot machines are adored in the slot gaming industry, with even the newer ones being created to function like old slot machines but without the hustle of inserting coins with every spin.
So, to help you decide which may be the best for you, you could consider playing both types of slots to decide which one you like the most. At Wizard Slots, we have over 1,500 slot and casino games you can choose from! From classic traditional slots to more modern ones, we've got something for everyone. Simply log in or register to view our collection and play!
*All values (Bet Levels, Maximum Wins, etc.) mentioned in relation to these slot games are subject to change at any time.