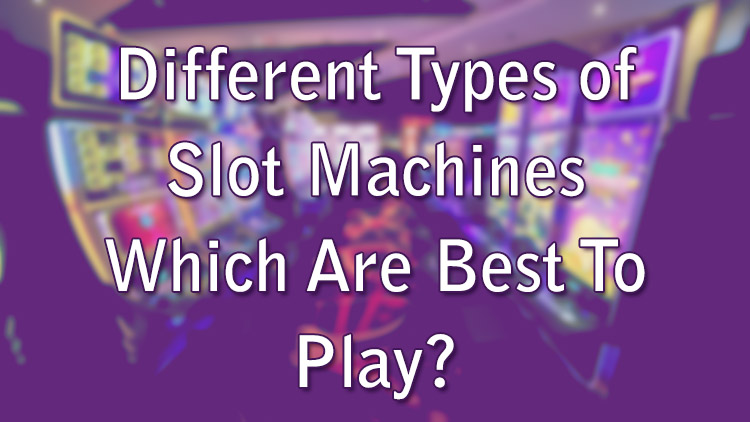 Not sure which type of slot machine to play? Read this Wizard Slots blog post to help you decide which type of slot machine may be the best to play!
We'll go through each kind of slot machine that can be played both online and offline, and share our thoughts on which ones are the best.
What Are The Different Kinds Of Slot Machines? 
When you go to a casino, you will find dozens of different slot machines to play. The most popular types of slot machines tend to be classic 3 reel slots, 5 reel slots, progressive jackpot slots, megaways slots, and slingo slots. Let's go through each one in more detail.
Classic 3 Reel Slots 
Classic 3 reel slots are a favourite for many. These are classic slots that resemble the original fruit slot machine. The gameplay for classic 3 reel slots is often simple, making them the perfect slot for beginners. However, many experienced players prefer these kinds of slots too!
Typically, 3 reel slots can offer between 1 and 3 paylines, and they rarely have bonus features. Classic slots can be really easy to spot as most tend to have a retro feel with minimalistic designs. Often, classic 3 reel slots will have fruit symbols, including cherries, lemons and grapes. Some will have BARS, golden bells and 7s.
5 Reel Slots 
5 reel slots, also known as video slots, are the most common format for today's real money slots online. With more reels, these slots allow for a broader range of paylines, ranging from 9 up to 1,000+ potential paylines, depending on the game.
Adding more reels and paylines can also open up a range of special features. These may include possible wilds, scatters and bonus features, such as free spins. These great additions can potentially give you more chances to win.
Progressive Jackpot Slots 
Progressive jackpot slots are a type of jackpot slot where a portion of the bet goes into the jackpot prize pool every time someone places a bet. The more players there are, the higher the jackpot can increase. 
Progressive jackpot slots have large jackpot prizes, sometimes in the millions! For example, Microgaming's Mega Moolah claims the title of the largest progressive jackpot payout. In 2015, an amazing jackpot of over £13 million was won!
Megaways Slots 
Megaways slots are fun slots that offer more ways to win because of the random reel modifier. The Random Number Generator (RNG) determines the number of symbols on each reel with every spin. Megaways slots are sometimes known as "ways to win" slots. Some of the most common ways to win slots include 243 ways to win slots and 117,649 ways to win slots. 
Many megaways slots can offer a unique avalanche feature, which makes this kind of slot stand out from others. This means that if you land a winning combination, all the symbols that made the win will disappear and fall down. Then, new symbols will take their places. You can potentially get several avalanche wins in a row, providing winning combinations continue to be made.
Slingo Slots 
Slingo is a mix of slot machines and bingo. It combines the best of both games, which makes it a popular choice for many players. Like in a game of bingo, to win at slingo, you must complete lines and mark off numbers. 
Slingo games can come in a range of entertaining themes with top-quality graphics. To make the game even more fun, slingo often has a range of special features, such as potential free spins, multipliers and powerups. You can always refer to the paytable if you want to know more about a specific game.
Types Of Online Slot Machines 
You can usually find all the same types of slot machines online as you can find offline. The beauty of online casinos is that they can offer many different kinds of slot machines to play. You can become a Wizard Slots member and enjoy 5 reel slots, or you can play a mix of all the different slot machines there is to offer - it's up to you! Let's look at some of the top online slot machines to play:
Classic 3 Reel Slots
5 Reel Slots
Progressive Jackpot Slots
Megaways Slots
Slingo Slots
Which Types Of Slot Machines Are Best To Play? 
The best type of slot machine to play depends on the kind of gaming experience you want. Classic 3 reel slots are a favourite for many players as they resemble the traditional fruit machine slot. 
These slots can be simple and may be a good place for beginners to start. Classic 3 reel slots also tend to have smaller minimum bets, which is great if you have a smaller budget or want your gaming experience to potentially last longer.
For players looking for something more entertaining, 5 reel slots can be a perfect choice. 5 reel slots are the most popular type of slot machine. This is because there are so many amazing 5 reel slots to play with a range of exciting themes, bonus features and 3D animations. 
One reason players love 5 reel slots is the bonus features they offer. Many 5 reel slots have fun bonus features, such as free spins, multipliers and pick-style games where you can potentially boost possible wins or win free spins.
If you want to play slots that offer the biggest prizes, progressive jackpot slots are a great choice. Progressive jackpot slots appeal to some players because of the large jackpot prizes. However, jackpot slots tend to have high volatility, meaning they tend to pay out less often.
For those looking for something unique to play, look for megaways slots. Megaways slots are unique and can increase your chances of winning by adding more reels and ways to win. These slots tend to have an avalanche feature, which can potentially generate several consecutive wins.
If you love bingo and slots, slingo is the type of slot machine you want to look out for. Slingo combines the best elements of bingo and slots. It has the classic bingo feel with numbers you have to mark off to create slingos, with the addition of bonus features, including powerups and free spins.
All the different types of slot machines are unique in their own way. So, which type of slot machine sounds best to you? It's ultimately your decision. You can play all these slots and more here at Wizard Slots.
*All values (Bet Levels, Maximum Wins, etc.) mentioned in relation to this slot game are subject to change at any time.